On the road with Donald Fagen – and Jim Reeves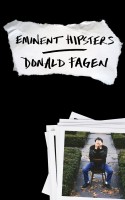 The touring musician isn't a figure who features often in the travel pages. Why not? I've been dipping into Eminent Hipsters by Donald Fagen of Steely Dan, which is just out in paperback from Vintage. The second half of it is a wonderfully cranky diary of a cross-country tour he made with Michael McDonald and Boz Scaggs, an account of the places where they played and the places where they stayed ("This room in the Hyatt is dang ugly, cowboy. Isn't there some design rule that says the floral pattern on the wallpaper can't be duplicated on the carpet? I feel like I'm living inside one of my aunt Lotty's doilies.").
That reminded me of a lovely piece I came across a while ago by Rick Bass. It's a fictionalised account of a tour by a young musical family, the Browns, who were taken on as a support act by Jim Reeves and his wife. Having never been more than 50 miles from their home in Sparkman, Arkansas, they set off with their mentors for the Pacific Northwest. Maxine, the eldest of the Browns at 21, finds herself "in a continent as wild as her dreams". You can read the piece, an extract from one of Bass's novels, on the website of Big Sky Journal.