Travellers on the bill at Dartington festival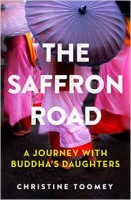 Travel writing will feature strongly at the Telegraph Ways With Words Festival at Dartington Hall, Devon, next month (July 3-12; wayswithwords.co.uk). On a day largely devoted to travel, Christine Toomey will introduce her new book The Saffron Road: A Journey with Buddha's Daughters, James Attlee will talk about train travel and William Atkins about tramping the moors, the journalist Mark Huband will read from his debut poetry collection, American Road, and Alistair Carr, author of The Nomad's Path, will look back on his travels in the Sahel.
In addition, Simon Armitage will introduce his latest book, Walking Away (serialised in The Daily Telegraph at the weekend), for which he tramped along England's south-west coast offering poems in exchange for bed and breakfast; Adharanand Finn will pass on what he learned about sport and Japan while researching The Way of the Runner; Horatio Clare, author of Down to the Sea in Ships, will offer a first-hand account of life on a container vessel; and Jenny Balfour Paul, author of Deeper than Indigo, will talk about following the Victorian adventurer Thomas Machell around the world.