Another dispatch from the border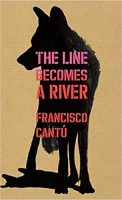 Borders are the theme of the moment. They provided the subject for the Stanford Dolman Travel Book of the Year and one of the titles short-listed for that prize, as well as for Graham Robb's much-praised The Debatable Land, in which the historian explores what used to be an independent territory between Scotland and England.
In March, Bodley Head is due to publish in Britain The Line Becomes a River by Francisco Cantú, which is based on journals Cantú, a third-generation Mexican-American, kept while working as a US Border Patrol agent in the Sonoran desert. In an interview with Ursula Kenny in The Observer at the weekend (now online on the website of The Guardian), Cantú said he wrote the book as a way of "acknowledging the human cost of our border policy, and the ways in which individuals are caught up in it". Cantú (who was also interviewed earlier this month by NPR in the US) has himself been caught up in protests while promoting the book, shouted down by protesters who accused him of profiting from the suffering of migrants.