A space cadet exploring planet Earth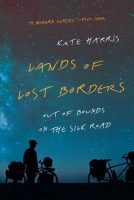 I'm surprised a British publisher hasn't yet snapped up Kate Harris's debut, Lands of Lost Borders: A Journey on the Silk Road. It drew a lot of praise on its publication (by Knopf) in her native Canada and is due to appear in the United States in August (Dey St/HarperCollins). Translations have also been agreed for France, Germany, the Netherlands and Taiwan.
The author kindly sent me a copy after I mentioned the book in February. I've been busy with reviewing and doing background reading for a forthcoming trip, so I've had time to read only the first 60-or-so pages, but those have been enough to convince me that she's more than worthy of the endorsements she's had from Colin Thubron, Barry Lopez and Pico Iyer. She's not only a restless spirit but a well-read and reflective one. So far, it's one of the most impressive travel debuts I've read in a long time. As I said earlier, she had initially planned to be an astronaut; I'm glad she decided instead that there was enough to explore on planet Earth.