On the Waveney, with Gaw and Deakin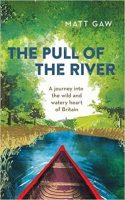 In his debut The Pull of the River (Elliott and Thompson), which I'm just dipping into, Matt Gaw acknowledges that his own journey on Britain's waterways was partly prompted by one made by Roger Deakin in 2005 on the River Waveney, which became an audio diary for Radio 4, Cigarette on the Waveney (Cigarette being Deakin's canoe, which was named after one used on the canals of Belgium and northern France in 1876 by Robert Louis Stevenson and his friend Sir Walter Grindlay).
Deakin's programme, as Gaw points out, has recently become available again via the BBC iPlayer. And Gaw's canoe, built by his friend and fellow traveller James? It's called the Pipe.