'Neon — the light of pure promise'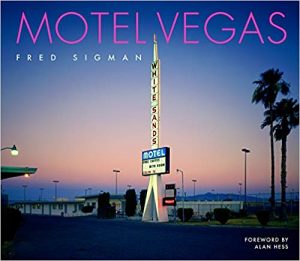 In The Spectator this week, Geoff Dyer writes about a new book of photographs by Fred Sigman, Motel Vegas (Smallworks Press):
In the 1960s especially the motel became an architectural extension of something that appears almost inconceivable except in retrospect: Las Vegas glamour. Vegas was a wonderland, and the faithful who flocked to it needed accommodation. Motel signs were a way of meeting the humdrum necessity of providing shelter without breaking the spell of the magically boozy kingdom of the Rat Pack. The essential element in this was neon: the light of pure promise ('VACANCY') that, if all else failed, could be filled or underwritten by naked guarantee ('STRIPPERS').