A 'gateway drug' to the work of Ellen Meloy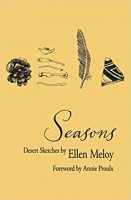 Until yesterday I'd never heard of Ellen Meloy, a writer from southern Utah who died in 2004. Having seen Michael Engelhard's review on the High Country News site of her posthumously issued essay collection Seasons (Torrey House Press), and then found Annie Proulx's preface to the collection on Literary Hub, I'll be following Engelhard's advice and taking the book as "a gateway drug". Engelhard writes:
Seasons' opening salvo, the thoughtful but hilarious "I Stapled My Hair to the Roof," encapsulates her approach. Outspoken and passionate, Meloy skewers grandstanding, mindless consumption, militarism, patriarchy: "In pioneer times, while the men mumbled about posses and punched each other's lights out, the grandmothers of my Anglo neighbors simply got off their horses and took care of business." She makes an absolute gas out of much that is ghastly. Meloy's eloquent levity, however, was no mere parlor trick; the humor sugarcoats the pills we'll have to swallow if our planet is to heal. It threads through all of her books, even The Last Cheater's Waltz: Beauty and Violence in the Desert Southwest, her 1999 account of a nuclear road trip. Such light-handedness has been lacking in too-often dour and preachy "nature writing" ever since Edward Abbey rowed into the back-of-beyond, followed all too soon by this Bluff, Utah, philosopher-clown.
And Proulx says:
Several of Meloy's essays were instant classics. "Lawn" condenses everything into two fierce sentences: "Throw massive amounts of water and petrochemicals on your grassy plot, let it push up from the soil, then cut it down to nubs before it can grow up and have sex and go to seed. A lawn is an endless cycle of doomed ecology."