'I Belong Here' out today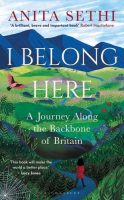 I see from Twitter that today is publication day for I Belong Here by Anita Sethi (Bloomsbury). It's a book in which, after being racially abused on a train, the author journeys through the landscapes of the North of England, aiming to transform "what began as ugly experience of hate and exclusion into one of hope and beauty".
An extract appeared earlier this month in The Observer, and the book was reviewed last weekend in The Guardian by Fiona Sturges, who described it as "a heartfelt examination of identity, place and belonging" and a memoir "of rare power".