'The Long Field' competition winners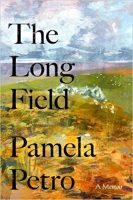 Happy reading to my five competition winners, who will each be receiving shortly a copy of Pamela Petro's The Long Field. The five are: Ruth Bradshaw, Stephen Hackett, Dr Claire Harris, Martin Pearson and Jane Simmonds.
Thanks again to the publisher, Little Toller, for putting up the prize, and to all those who retweeted my posts about it. And thanks, of course, to Pamela Petro for the book, a wonderful exploration of the Welsh idea of hiraeth ("a soul-deep homesickness"). You can still read an extract here on Deskbound Traveller.