Lea Ypi wins Ondaatje Prize for Albania memoir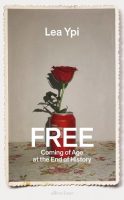 The £10,000 RSL Ondaatje Prize, for a work "that best evokes the spirit of a place", was awarded last night to Lea Ypi for Free, a memoir chronicling her coming- of-age in Albania during the fall of communism.
Ypi is professor of political theory at the London School of Economics, and political science and adjunct professor in philosophy at the Australian National University. Her book was also short-listed for the 2021 Costa Biography Award and the 2021 Baillie Gifford Prize. She will be one of the speakers at a session of the forum 5×15 on March 23. Also on the bill is William Atkins, who, in his latest book, Exiles, travels to the places where three people were banished at the height of European colonialism.