'Solito' competition winners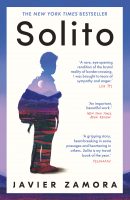 Congratulations to my five competition winners, who will each be receiving soon a copy of the paperback of Javier Zamora's prize-winning memoir Solito. The winners are: Dr Jackie Kirkham, Alison Lear, Joseph B, Chas Gilbert and Lisa Smith.
Thanks again to the publisher, Oneworld, for putting up the prize, and to all those who retweeted my posts about it. And thanks, of course, to Javier Zamora for a wonderful book; you can still read an extract here on Deskbound Traveller.