God Save Texas
By Lawrence Wright
(Allen Lane, £20)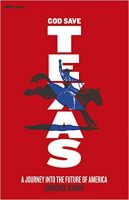 Lawrence Wright will forever be a resident of Texas. He has not only been living there for most of his life; he has chosen the plot where, when his time is up, he will be laid to privileged rest in the state cemetery in Austin.
Texas? Why in hell's name Texas? That's a question his friends and colleagues on east coast and west have long been asking. How could a cultured man of liberal outlook, a Pulitzer Prize-winning author, screenwriter and playwright, possibly feel at home in the heart of Trumpland? In God Save Texas: A Journey into the Future of America, Wright tries to provide an answer. In the process, he offers a fascinating, multi-layered portrait of the Lone Star State. If it's unlikely to persuade those friends and colleagues to follow his lead, it will certainly surprise them. Houston, for example, accepts more refugees than any city in the United States; and at the last count (2010)Texas had the largest number of Muslim adherents in the country.
Note that title: in Wright's view, saving rather than blessing is what Republican-dominated Texas — and, by extension, the nation — needs. This is a state that, every decade, has gained congressional seats and electoral votes, but it's one that has nurtured an "immature political culture"; a culture in which a bill that would ban texting at the wheel is thrown out while one allowing the open carrying of swords is nodded through. It's a state, he says, where growing gaps between rich and poor are left unattended and schools go under-funded. "Because Texas is a part of almost everything in modern America — the South, the West, the plains, Hispanic and immigrant communities, the border, the divide between the rural areas and the cities — what happens here tends to disproportionately affect the rest of the nation. Illinois and New Jersey may be more corrupt, Kansas and Louisiana more dysfunctional, but they don't bear the responsibility of the future."
Wright, having just entered his seventies, has more miles behind him than ahead, and has seen Texas change enormously. He says he wouldn't be there if it hadn't. Old stereotypes of stetsons, boots and guns have been overlaid by new ones of computer gurus, musicians and video-game tycoons. The state's image and the way Texans think of themselves has been reshaped, he says, in a way that can't be captured on a "Don't Mess With Texas" bumper sticker. Democrats believe it would be reshaped still more radically if Latinos, who have accounted for more than half the 2.7 million new Texans since 2010, voted at the same rate as they do in California. But they don't — perhaps because in Texas they are not unionised.
Wright believes that Dallas, which was labelled "the City of Hate" after President Kennedy was shot dead there (by a self-styled Marxist, as it turned out), has become much more tolerant and progressive precisely because of the shame and humiliation it endured. "Now," he says, "I look out at the country and wonder if America is turning into Dallas 1963."
Still, not much there to persuade his fellow liberals to make the move. Nor is there in his portrait of his beloved home city of Austin, "the blue dot on the red state". He reckons a declaration by Forbes magazine that Austin is the best place to live in America "will only take it further from the manageable town it was to the megacity it is destined to become".
Clearly, Wright wasn't born to be a real-estate agent. He is, however, a fine reporter, who can turn his hand to everything from Republican machine-politics to music. He himself is a "talentless but persistent" keyboards player for a Texas blues band, WhoDo. In a passage touching on artists from Lead Belly to Beyoncé, he observes that Texas is "a great scrambler of cultural forms". The same might be said of his own book, which artfully weaves together political analysis, history, memoir and travel writing. He has an ear for the telling phrase (government being seen as "a kind of kryptonite that saps the entrepreneurial muscles") but an oddly Trumpish approach to describing women ("a leggy blonde", "a glamorous blonde", "a petite blonde with intensely blue eyes").
Feminists will tick him off. Republicans on the far right will doubtless endorse the words of the head of the Texas State Cemetery, who told Wright with a smile at a reception in 2015: "We're looking forward to hosting you." MK
This review appeared first in the Review section of The Daily Telegraph on April 28, 2018