The Rule of the Land: Walking Ireland's Border
by Garrett Carr
(Faber & Faber, £13.99)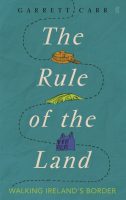 From the Promenade in Portstewart, the town where I grew up, there's a lovely view across the bay to the Inishowen Peninsula in Donegal. Somewhere along the Prom, Jimmy Kennedy, gazing over the water, wrote the lyrics to Red Sails in the Sunset, a song that's been recorded by everyone from Vera Lynn to the Beatles. Portstewart is in the doubly named county of Derry/Londonderry, in Northern Ireland; Donegal is in the Republic of Ireland — which in Northern Ireland is commonly referred to as "the south". As a glance at a map will tell you, though, Donegal is farther north than Portstewart.
Ireland's cartography is messily in keeping with its history, and political violence since 1921, when the island was partitioned, has ultimately been about the border, and whether it should stay or go. It's a border that, since the signing of the Good Friday Agreement in 1998, has lost watchtowers and bunkers and softened. Post Brexit, though, when it will be not just an Irish frontier but a European one, it might need hardening again.
The border was drawn by people who didn't have to live on it. They left others to cope with what one owner of a divided estate summed up as "a maze twisting between bogs and rivers giving a tolerable living to customs officers and smugglers". Well, that's part of the story, but not the whole one.
It's Garrett Carr's contention that Ireland is more divided than any of us suspected — not in two but in three: north, south and borderland. The third state, which he opens up in his marvellous book, has its own frontier-slipping people, who have their own language. They talk of dolmens — the prehistoric tombs that dot their territory — as "domees"; they say "fornenst" for next to, or up against. Or they will if you can get them to talk at all. For the borderlanders are a people whose conversational tone is always closing; "who say hello in a way that makes you aware it is also goodbye."
Carr, who grew up in Donegal and now lives in Belfast, where he teaches creative writing at Queen's University, manages to tease stories from quite a few of the inhabitants as he travels 300-or-so miles from east to west. He walks most of them, but when the boundary takes to the water so does he, with his friend Paddy Bloomer, who has a talent not only for canoeing but for avoiding being stuck with a political position — "a useful dexterity on the border".
Carr is equally diplomatic. His account, like Senator George Mitchell's approach to peace talks, embraces a plurality of opinion and tradition, but it doesn't stint on the jokes. He notes that on a Sunday morning a border literary festival offered a combined Catholic-and-Protestant service, "giving all but five or six festival-goers the opportunity to attend neither more efficiently".
Carr is a map-maker as well as a writer, and on his way charts features of the frontier  that Ordnance Survey has overlooked: muddy byways, gates in hedgerows, stiles in border fences — "small statements of human irrepressibility". The killing is part of his story, but there's dancing as well, at "The Ballroom of Romance", where, over the generations, a cross-border matchmaker brought together more than 200 couples. As he zigzags between north and south, Carr's prose occasionally hops the Atlantic: he meets "retirees" rather than pensioners, and reveals how smugglers had "gotten away".
He is clear-eyed about the countryside — its bungalow blight as well as its beauty — and even better on its characters. Among them is a farmer who, despite the frontier-crossing entailed in working his fields, has somehow found time to construct, out of dry stone, a 1:5 scale model of a 9th-century fort, a monastic round tower and a medieval castle more than 30ft tall.
Among them too is Sean Quinn, a modern-day Celtic chieftain who was made by the landscape — he got rich on gravel — and remade that landscape, with factories and a wind farm and a golf course. When he was accused of asset-stripping and jailed, the borderlanders stood by him, despite the mocking of the media. Carr observes: "They did not predict Quinn's ongoing popularity and can't compute it." Quinn, you're left thinking, could be president if he took to Twitter.
At one point, Carr goes on the road with the proprietor of a mobile library and learns that regular borrowers in borderland like big, thick books. His own, minus notes, is shy of 300 pages. They shouldn't let that put them off. MK
This review appeared first in The Daily Telegraph