Travelling Light: Journeys Among Special People and Places
by Alastair Sawday
(Little, Brown, £20)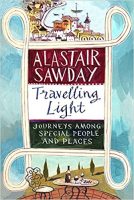 On a hike in Lycia, south-eastern Turkey, Alastair Sawday sprained his ankle and got left behind by his fellow walkers. He was hungry, so he knocked on the door of the first house he saw, rubbed his stomach, and was invited in for lunch. Afterwards, he says, "I wondered how an elderly Turk, rubbing his stomach, would fare at the door of any of my friends in England. Or even at mine." After reading his warm-hearted book, I can answer confidently on the second question.
Sawday, who says he is steaming gently into his eighth decade, has been a teacher, a campaigner for environmental conservation and organic farming and an advocate of slow food. He ran a Voluntary Service Overseas programme in Papua New Guinea, worked with Oxfam on disaster relief in Turkey and helped to resettle Ugandan refugees in Britain. He has organised cycling, walking and barging holidays. But he is best known for Alastair Sawday's Special Places to Stay, a series of guidebooks (and now a website) that has been used by travellers everywhere from Wales to India; travellers hopeful, in his own fine phrase, of "staying somewhere that honours their humanity."
The first guide, to France, appeared in 1994, featuring everything from farmhouses to châteaux (and the first of what would become habitual spoofs, one in Odeur-sur-Pestilence). From the outset, his team "reverse-modelled" themselves on the AA guide and its preoccupations with "facilities". What mattered to Sawday were character and individuality in the properties, and warmth in their owners. His summation of a place in Devon spells out what he and his inspectors have always sought in those owners (who must pay to be listed):
"Fingals, more a country-house party than a hotel, became a by-word in the office for 'dotty but wonderful'. Nothing ran on time; meals were unpredictable and would last for as long as the conversation. Children and dogs were welcome, and I am sure a pet chimpanzee would have had a privileged place at the table. If Richard [the owner] was seized by an idea he was off, perhaps dragging the guests with him out onto the river in his boat with a picnic. Behind it all lay generosity, a natural exuberance and a hunger for interesting encounters."
Those three qualities are equally evident in Sawday's own book, which combines memoir, travelogue and the reflections of a quiet rebel ("Venice is different, and thrilling for it, reminding us that the motor car is not a beast we have to tolerate."). There's a cosiness to it, as if it were first drafted for circulation among family and firm.
Sawday, who was born in Kashmir, grew up in Suffolk and made his first trip to France in 1954, with his father driving the family's Ford Consul into the nose of a Bristol Freighter at Lydd airfield, has had a footloose life, and has good stories to tell of it. In the 1960s, in a French b&b whose owner was a slow starter, he milked her cow himself to get a decent café au lait. In the '70s, in London, he organised guitar concerts in his bedroom in a shared house, opening with the flamenco star Paco Peña. On the first barging holiday he arranged, in Burgundy, a passenger had a heart attack and paramedics taking him off on a stretcher dropped him in the canal.
Diverting as the stories are, though, they're contained in a narrative that's often as rambling and rackety as some of the properties Sawday's guides recommend. A slimmer book — minus, for example, the announcement that "The unexpected can transform a run-of-the-mill experience" — would have been a better one.
He says his editor has gently improved his careless spelling of place names and people. Even so, a property he commends in Essex is said to be in Malden rather than Maldon. A Ugandan refugee, whom he set up as a shopkeeper with a loan of £50, is Mr Majothi, then, seven lines later, Mr Majhoti. The surname of a Catholic priest who, he says, deserves canonisation for starting co-ops in the Basque country, is given as Arizmendiarietta and then Arizmendi.
Sadder, though, in the published work of a man committed to what's distinctive, individual and fresh, is the appearance of so many tired expressions; expressions that should have annoyed an editor rather than a reader: "halcyon days" (at least twice), "restored to its former glory", "red rag to a bull", "a nail in the coffin of old Spain". In a single paragraph about his first guide, he says he and his team were in "a race against time" and "burning the midnight oil".
None of this will matter much to Sawday's faithful customers and custodians. They will be confident, as I am, that if we knocked on his door, rubbing our stomachs, we would be fed, watered and charmed. MK
This review appeared first in the print version of The Daily Telegraph