This Is London: Life and Death in the World City
by Ben Judah
Picador (£9.99)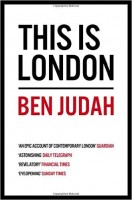 I thought I knew the city where I have lived and worked for 40 years, but in This Is London, which is out now in paperback (Picador, £9.99), Ben Judah shows me I was wrong.
Between Victoria Coach Station, from which 2,000 migrants a week set out on a new life, and a mortuary in a mosque in Leyton, where bodies are washed before burial, he leads a tour of a city I've never seen; a city where Cockney old London has "shattered into a thousand, dazzling inscrutable shards". At least 55 per cent of the people in that city are not ethnically white British, nearly 40 per cent were born abroad and 5 per cent are living illegally. Who are these new Londoners, Judah wants to know. And what is their London like?
Over 400 pages, and countless conversations, he provides the answers. Or, rather, he lets the new Londoners do so. His job, as he sees it, is to get them talking and let them talk. The results are by turns heart-breaking and heartening, and sometimes both in the space of a  page.
He's a great listener. He coaxes life stories from Polish tramps and Romanian addicts; from an Arab heiress in a gilded prison and Filipina domestics enslaved in mansions; from rich Russians and poor Somalis. He hears talk of the new London from immigrants who experienced an older one: a Nigerian who started in the steam of a hotel laundry and now pounds the beat on the Old Kent Road; a Polish registrar who's been around long enough to tell a love match from a marriage of convenience.
Judah, an acclaimed foreign correspondent who was born into a Jewish family in the north of the city, says he can't rely on others to tell him how things really are. So he beds down with the beggars in a tunnel beneath Hyde Park, and with 15 builders in a two-bedroom dosshouse — the sort of immersive reporting that has led to comparisons with Orwell's Down and Out in Paris in London. I was reminded, too, of the work of Studs Terkel, who gathered oral history in Chicago from sharecroppers and signalmen, models and judges because he believed that "ordinary people have extraordinary thoughts".
Judah's is an extraordinary book; a fizzing, buzzing, choral account of the 21st-century city. MK
A shorter version of this review appeared in The Daily Telegraph