Grape, Olive, Pig: Deep Travels Through Spain's Food Culture
by Matt Goulding
(Hardie Grant, £20)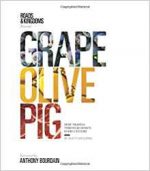 This is a follow-up to Goulding's excellent book on Japan: Rice, Noodle, Fish. In common with that one, it's beautifully produced by the team behind the website Roads & Kingdoms and has a foreword from the chef Anthony Bourdain. It's a much more personal book, though, for Goulding, who is from Cary, North Carolina, has embraced Spain in more ways than one: he is married to a Spanish woman, lives in the capital of Catalonia, and has had his understanding of country and cuisine shaped and deepened by an extended family.
He has served time in the kitchen himself (there's a passage on his rustling up a Thanksgiving dinner for 13 Europeans), but he says he would rather see his name in print than see his face in the mirror after a night bending over a stove. Having lived in Barcelona since 2010, he has taken the opportunity to "roam the Iberian peninsula like an Iberian pig in search of fallen acorns". As with his travels in Japan, he is less interested in specific restaurants or dishes than in the people and the stories behind the food, which is why his book can be read with enjoyment even by non-cooks.
Among the characters he meets this time are a group of female percebeiras — hunters and gatherers of the gooseneck barnacle of the Spanish Atlantic — and Chacho Federo, his wife's 87-year-old great-uncle, an Andalusian shepherd "who still remembers the number of prostitutes lined up at the most famous brothels of Granada, but can't tell you the last time he's been to the doctor."
Readers unaccustomed to the heat of a kitchen should note that expletives are not deleted.
Las Chimeneas: Recipes and Stories from an Alpujarran Village
by David and Emma Ilsley
(Casita Press, £18 plus £2.50 p&p through laschimeneas.com)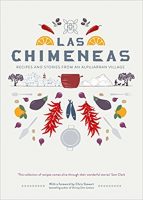 The Illsleys, an English couple who are also expat residents in Spain, don't range quite so far as Goulding does. Their focus is on one whitewashed village in the Alpujarra, the region that forms the foothills of the Sierra Nevada, south-east of Granada, and which has seduced British writers as various as Gerald Brenan and Chris (Driving Over Lemons) Stewart, who has written a foreword here.
The Illsleys set up home in Mairena in 1998 after a spell teaching English in the Canary Islands, and run Las Chimeneas (The Chimneys), a restaurant and collection of guest rooms popular with tour operators offering walking holidays.
Mairena is a place where there's still a "rigorously patterned seasonality" to life, and everything is done en su tiempo — at the proper time — from planting to feasting. That's reflected in the structure of the book, which opens with the blossoming of the almond trees in la primavera (spring) and finishes with the olive harvest in el invierno (winter). Along the way, we're introduced not only to local traditions and recipes but to those who know them best, from the cooks, Conchi and Soledad (who lived without running water or electricity until she was 10), to Juan, the cultivator, and Carmen, the cheesemaker.
The book, which has fine pictures by the travel writer and photographer Suzy Bennett, was short-listed in the food-and-travel section of the British-based Guild of Food Writers' awards this year. It's both an affectionate portrait of a village and a dependable source of recipes: I've enjoyed the results in my own kitchen (and, having been to Mairena since writing this review, can say that the dishes taste even better at source).
Tasting Georgia: A food and wine journey in the Caucasus
by Carla Capalbo
(Pallas Athene, £30)
When Carla Capalbo was a child, her mother was a dancer with the New York City Ballet, working with the choreographer George Balanchine. It wasn't until years later that she visited his homeland, but when she did she returned raving about it: "You're going to love Georgia: the food and wine are delicious and there are cows in all the roads." Her daughter — an award-winning food and wine writer and photographer — has indeed come to share that enthusiasm, and this is the result: her own love letter, a combination of cookbook and travel guide to that little-known country between the Caucasus and the Black Sea.
The Georgians' way of eating, with multiple dishes arranged on the table at once for sharing, is a reflection of a boundless hospitality, Capalbo says. And their food tastes both exotic yet familiar: "rich in fresh vegetables and salads, subtly spiced but vibrantly flavoured with more nuts and fresh herbs in one meal than we would use in a month". Starting in Tbilisi, the capital, she makes a series of journeys from it, meeting viticulturists and cooks, collecting stories and recipes, exploring traditions in everything from wine-making to baking.
In a passage on Georgian feasting, she quotes a line from the 12th-century poet Shota Rustaveli: "What we give to others remains ours for eternity,/What we keep for ourselves is lost." Her own book is equally big-hearted: she offers not just websites but email addresses and telephone numbers so that others can follow her trail.
World Street Food: Easy Recipes for Young Travellers
by Carolyn Caldicott; photographs by Chris Caldicott
(Pimpernel Press, £9.99)
Those lucky enough to have had a gap year will recognise the dishes here; the unlucky ones can share in some of what they missed. The well-travelled Caldicotts, who ran the World Food Cafe in Covent Garden, London, have written a primer for anyone stepping into that first kitchen away from home. The idea is to help the tyro cook recreate the tastes of "street stalls and night markets… campfire cook-ups and comfort food in backpacker cafes."
Kitchen kit is kept to a minimum, and the recipes are simplified versions of of classics, so whether you're a European inter-railer intent on aubergine parmigiana, or a round-the-worlder dying for Vietnamese jungle curry, you shouldn't have to go to the ends of the earth to find the ingredients. MK