Where the Wild Winds Are: Walking Europe's Winds from the Pennines to Provence
by Nick Hunt
(Nicholas Brealey, £16.99)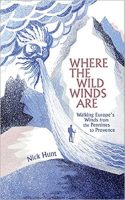 When the Helm howls, sensible folk run for cover. This north-easterly, which blows down Cross Fell in the Pennines, can knock walkers off their feet, hurl sheep around like pieces of wool and destroy stone barns.
Nick Hunt, fortunately, is not among the sensible folk. If he were, we wouldn't have this exuberant, invigorating blast of a book. He heads out when the Helm is forecast to be at its height. He goes on to put himself and his tent (a Zephyrus 2) in the way of the Bora, blowing from Italy down the Adriatic coast, through Slovenia and Croatia; of the Foehn, which takes him through Switzerland and Liechtenstein into the heart of the Alps; and, finally, of the Mistral, which scourges the delta of the Rhône in the south of France.
Is he mad? Just a tiny bit. Though he's an experienced walker, who for his first book (Walking the Woods and the Water) retraced what Patrick Leigh Fermor called his "great trudge" of the 1930s from the Hook of Holland to the Golden Horn, Hunt admits here a couple of times to striding out without food and with too little water. Excitement got the better of him. Of me, too. I couldn't wait for him to be swept off his feet. As I turned his pages, I looked up from time to time and wished for a gale rather than a breeze to take on the stout maple framed in my front window.
All travelling, he argues, is an act of following something — coastline, trading route, border. He turned to the windy ways because they seemed to be the only ones that hadn't been written-out. There are reasons for this, of course. One of them is summed up by the custodian of a museum to the Bora in the backstreets of Trieste. This "meteorological BFG", who has a cabinet of "captured winds" from around the world in phials, bottles and flasks, tells the writer: "To show something that is invisible is not easy… You will discover this, I think." Hunt proves more than equal to the challenge.
In 350 BC, Theophrastus of Eresus, a student of Aristotle, declared in his Book of Signs that a heron screaming from the sea was a portent of a breeze, a dog rolling on the ground, of a violent wind. Herons and dogs may have been supplemented by satellite pictures and computer models, but forecasting remains an inexact science. Sometimes the wind doesn't come; sometimes (to paraphrase Jim Naughtie on snow), it's the wrong sort of wind.
If Hunt occasionally gets stuck in the doldrums, he doesn't leave the reader there. As a walker, he understands that diversions can be both necessary and rewarding. There are brisk teach-ins on both austromancy — wind divining — and 21st-century meteorology; on how, just as the Greeks conflated winds and gods, indigenous cultures have conflated winds and spirits. He reports on how the Bora has lent force to the raids of pirates and flavour to the produce of cheesemakers. He tells how the wind — or the necessity of resisting it — has shaped architecture from the Pennines to Provence, and reflects on how it has inspired art and artists, from Vincent Van Gogh, pegging his easel against the blast of the Mistral, to Bob Dylan, snarling into his Idiot Wind.
He quotes extensively from Peter Camenzind, Herman Hesse's novel of a young man from an alpine village who shakes off provincial shackles by heading for Italy, a journey soundtracked by the roaring of the Foehn. Hesse, Hunt seems to suggest, has descriptive powers he can't match. He does himself an injustice. Occasionally a sentence veers off course ("Bowling through Italy as the sun climbed, Switzerland felt like a secret dream…") or a simile is uncertain ("the sky was the colour of paintbrush water"). Usually, he gets it exactly right:
"An eighty-mile-per-hour blast lifted veils of powder snow, frozen spindrift that swirled like smoke, spinning itself into ice tornadoes that leapt from slope to slope before blowing apart again in mists of agitated dust. It happened again and again as I watched, each white eruption spreading and merging to create gyrating clouds that travelled as fast as a forest fire, hurtling down the mountain. The Bora's face was visible in each fleeting pattern of snow, each convolution and curlicue, each vortex, twist and coil. I saw the invisible appear, the formless given form."
With his debut, even while walking in Leigh Fermor's shadow, Hunt was short-listed for the Stanford Dolman Travel Book of the Year award. This time, he might blow the judges away.
MK
This review appeared first in the Review section of The Daily Telegraph on September 23, 2017