The Promised Land: Poems from Itinerant Life
by André Naffis-Sahely
(Penguin, £7.99)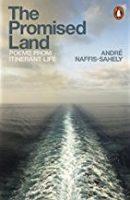 Billy Collins, former poet laureate of the United States, says that most of his work is voiced by a reclusive fellow who likes to look out the window: "I do quite a bit of travel, but I keep writing poems about the birdfeeder." If André Naffis-Sahely is looking out a window, it's likely to be on a train or a plane. He's a travelling poet, a border-crossing bard, and his impressive first collection is both an admission of wanderlust and an acknowledgment of the insecurities it brings.
His poems and prose poems take the reader around the world: Venice, Abu Dhabi, Florence, London, Tamil Nadu, Kolkata, Fez, Cape Town, Chicago, upstate New York. In one  titled "N16 8EA" (a postcode in Stoke Newington, London), he says: "…stability, it seems, is a dream that you have/in between one address and another./This is where my love of roaming led me."
He was born in Venice in 1985 to an Iranian father and an Italian mother, but brought up in Abu Dhabi — "the promised/ land of oil and honey where father thought/his fortunes would ignite".  The first part of this collection deals with their life there — with his father's "sweat and toil /in that cursèd desert" and his jailing for a theft he didn't commit, with the writer's squabbles with his brother — and with expat life in general in "disposable cities… whose primary purpose is to extract, process and distribute." It ends with Naffis-Sahely's move to the United States, "this, sad, deluded, friendly country…with all its lies and all the kids/ it shoots in parks."
In the second section, he ranges farther afield, both on the Amtrak Zephyr and on planes to Asia and Africa ("Over time, I have worn countries like shirts or shoes, and shed bits of myself in each").  There have been brief encounters, too, and "a short-lived kind of love", which ended when — not for the first time, it seems — he had trouble remembering a name. His wife's, one hopes, is easier to recall.
The final section draws inspiration from the classics but has remarkable resonance in our paranoid times. In "The Crisis of the Third Century", he writes:
Once fear got hold of the Romans,
it never released them. Their solution was walls,
higher walls: the blind ecstasy of mortar and brick.
MK