The Sea Journal: Seafarers' Sketchbooks
edited by Huw Lewis-Jones
(Thames & Hudson, £29.95)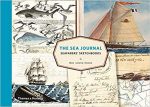 Don Walsh is both a perfect choice and a strange one as the author of the foreword to The Sea Journal: Seafarers' Sketchbooks. Perfect because he's been a seafarer for nearly 70 years, first in the US Navy, then as a marine explorer who, in 1960, with the Swiss engineer Jacques Piccard, went deeper in an ocean than anyone had ever been before: seven miles down in a cramped steel sphere in the Mariana Trench, east of the Philippines. Strange, because he says that these days he keeps most of his notes in his head, and The Sea Journal is a treasury of records put down in a more readily accessible form — with pencil or pen on paper and paint on canvas — of voyages across the seas and through the ages.
  Edited by Huw Lewis-Jones, a historian and expedition guide who spends much of his time navigating small boats in Antarctica and the Pacific, it's something of a companion volume to the bestselling Explorers' Sketchbooks, which he compiled with the author and artist Kari Herbert (whose father, Wally, was the first man to cross the Arctic Ocean). She is among seven writers who contribute articles here, dropped in among potted biographies of people who either chronicled their own adventures at sea or featured in accounts by others.
  The voyagers are arranged in alphabetical order by surname. Thus Francis Beaufort (1774-1857), who is synonymous with the wind scale, is preceded by Jeanne Baret (1740-1807), who ought to be synonymous with deception and daring: she joined a French scientific expedition disguised as a valet to her lover, and so became the first woman to circumnavigate the world.
  Besides famously nautical names — da Gama and Nelson, Chichester and Bligh — the voyagers include a whaler's wife and a cabin boy, a French botanist and a Tahitian priest, as well as pirates and artists. Among the last is JMW Turner, whose greatest work was certainly inspired by light and water, though it might be a stretch to call him a "seafarer".
  Most of those featured, however, did set forth, as Lewis-Jones has it, "to venture, to hazard" and to bring back "proofs of marvels". Among the proofs are the Venetian scholar Antonio Pigafetta's account of the first circumnavigation of the world (1519-1522), during which Magellan died, and the first charts to show the coast of Antarctica and the Arctic archipelago of Franz-Josef Land.
  There's the survival story of Frank Hurley, stained in places with blubber from the stoves, detailing in words and pictures how 22 men lived for four months in 1916 under two upturned boats in the Antarctic. There are the handwritten notes of William Bligh, which read like a draft of a wanted poster on the mutineers who cast him adrift in 1789 from the Bounty ("Fletcher Christian. Aged 24 years, 5 feet 9in. high. Dark swarthy complexion.")
  And there are the fantastical images of sea creatures off Bermuda painted by the German-born artist Else Bostelmann (1882-1961), whose methods of working seem equally fantastical. For initial sketches, she went down in a copper diving helmet and scratched a steel pin on a zinc engraver's plate. "On subsequent dives an iron music stand was lowered… on which she tied a canvas and a lead-weighted palette daubed with oil paint. Her brushes floated with their wooden handles upright, tugging lightly at their strings."
  Given improvisation like that, and Robin Knox-Johnston's matter-of-fact account of patching his boat in shark-patrolled waters, it seems quibbling to say that, even with pages measuring more than 10in wide and 7in deep, I sometimes wished I had a magnifying glass —  but only so I could read more of the reproductions of original scripts and scribbles.
  This is a book to dip into rather than read straight through, but an endlessly diverting and beautifully produced one. It's a reminder, too, in this age of the Galileo satellite and the gyro compass, of the extent of uncharted waters. Back to Don Walsh's foreword: with only 15 per cent of our oceans explored, he points out, there's still plenty to do, "and yet we want to return to the moon and land people on Mars… I'd say it's more important to understand how [this planet] works and try to repair the damage we're doing." MK
This review appeared first in The Daily Telegraph on July 13, 2019 and is now online on the Telegraph website