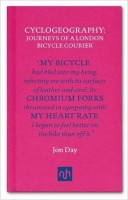 There's a gap in travel writing, and Jon Day has just zipped into it — like a bike courier between white van and black cab. The British capital, he says, has been written about often from the perspective of the rambler and the stroller, but not much from the saddle. He's started to make good the deficiency with Cyclogeography: Journeys of a London Bicycle Courier (Notting Hill Editions).
He's done so in a month when we have had the Thames as seen by a swimmer, Japan as seen by a runner, and the world as seen by a British Airways pilot. Novel perspectives, in the manner of buses, have all arrived at once.
Day, who teaches English literature at King's College London, spent seven years as a courier, "paid to pass the parcel around a massive financial circuit". If he was constrained in his navigation on the road by the demands of time and traffic, he's freer on the page, touching on Dickens, doping scandals, Phyllis Pearsall, who paced out the A-Z street map, and The Third Policeman — created by Flann O'Brien — who found his own molecules fusing with those of his bike.
Day (who clearly has extra hands for pen and notebook as well as eyes in the back of his head), has experienced some transformations himself: "Bikes, like water, want to flow downhill… you often find yourself following the ancient ley-lines of the city's subterranean rivers. The pull feels curiously elemental — your bicycle becomes a dousing rod. I discovered many of London's lost rivers this way… The rivers had worn away the fabric of the city, and the bicycle made the dips and rises they left behind legible."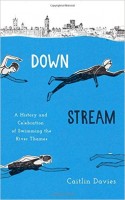 A guide to wild swimming published by The Daily Telegraph in 2008, recommending a couple of stretches of the Thames, prompted this response from a columnist in The Oxford Times: "Barking mad… River swimming is a new, faddish activity. Like motorcycling and Morris dancing, it numbers many zealots among its supporters." In Downstream: A History and Celebration of Swimming the River Thames (Aurum Press), Caitlin Davies shows that the practice is far from new, although it is undergoing a revival. In Roman times, there were military training swims. In the 17th century, the poet Robert Herrick sent his "supremest kiss/To thee, my silver-footed Thamesis" where in the "summer sweeter evenings" thousands "bathe in thee". By the 1930s there were beaches at the Tower of London, Greenwich and Grays, in Essex.
A declaration in 1957 that the river was biologically dead, and fears that it was dangerous, put an end to racing, but thanks to improved water quality and the boom in outdoor swimming people are returning to the river in sizeable numbers. At least 10,000 a year take part in organised events, many for charity.
Davies had dipped a toe in the river once — 40 years ago — before starting on this book, and makes only three swims herself on her journey from source (a Gloucestershire meadow) to sea (Southend Pier). She's far from a zealot, which is why she can be read with pleasure by those who wouldn't dream of pulling on a wetsuit themselves.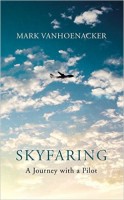 If you've made expensive journeys to the far north and been denied a sighting of the aurora borealis, you might want to skip page 276 of Skyfaring: A Journey with a Pilot by Mark Vanhoenacker (Chatto & Windus). "Sometimes," he writes, "I find it hard to remain interested… because they appear so regularly; because they are routine to pilots, ordinary by definition." Flying, on the other hand, which for most of us means security queues and cramped seats, is for him a thing of wonder, and a pair of wings "this most charmed of our creations".
Vanhoenacker, who flies 747s for British Airways, was born in the United States — to be a pilot, clearly. Taken to Disney World as a child, he couldn't wait to get back on "the magical vessel" that had brought him there. Having worked as a management consultant (with time to stare out aircraft windows) to pay off student debts, he began flight training in 2001 and is now a senior first officer with BA — and one of those lucky people who can change the weather. If he wakes to an overcast sky in London, he knows he'll be rising above it.
Join him on his journey, and you'll see immediately that he's anything but the aviation equivalent of a petrol-head. In his hymn to "the business of guiding vessels between blue-parted cities", he touches on Joni Mitchell as well as Mach 1, on TS Eliot as well as tailwinds. In the pages of his book, if not necessarily on your next outing in the economy cabin of his 747, you will find yourself agreeing that "The ordinary things we thought we knew… become more beautiful."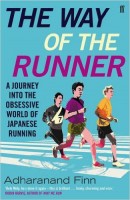 Adharanand Finn, I suspect, is wishing his wife could have read Skyfaring before their latest expat adventure. A few years ago, she agreed they could take the children to Africa for six months so that he could write Running with the Kenyans. Second time around, when he wanted to move to Japan to experience the culture of the ekiden, a long-distance relay, for The Way of the Runner (Faber & Faber), she didn't get "fully enthused" until she realised they could do most of the journey by train. By day seven of the Trans-Siberian ("musty…grimy…smoky"), he was "chewing the bed rails".
Finn is a more serious runner than Davies is a swimmer, but even he has his limits. When teenagers living near his rented house in suburban Kyotanabe invite him to join their daily training run, he does it only once — because they rise at 5.30.
Unlike Richard Askwith, who puts terrain above timings (which is why his Running Free was shortlisted for a nature-writing prize), Finn is concerned with the secrets of speed, and with passing them on. But his book is incidentally revealing of facets of life that would be missed by a visitor who was staying in Japan rather than living there. The Japanese, for example, eat much less wheat than Westerners, so a supermarket loaf runs to only three slices: "For my children, who love to eat toast… it means virtually cleaning out the shelves every time we go shopping." MK
These reviews first appeared in The Daily Telegraph