Island Home: A Landscape Memoir
by Tim Winton 
(Picador, £12.99)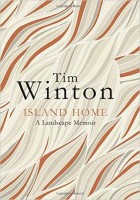 There's a lecture theatre named after Tim Winton at Curtin University, in Perth, which when he was a student there was the Western Australia Institute of Technology. The honour hasn't sweetened the writer's memories of his alma mater: "With its nasty corrugated concrete façades and industrial park sprawl, it had the air of a wholesale storage facility… There are hospitals, air terminals and justice complexes more congenial."
Winton, though, doesn't like to spend too long under a roof of any kind (which makes it all the more impressive that he has written 26 books since the start of the 1980s, including two novels short-listed for the Booker Prize). He says he loves being in the great cities of the world, and he accepts that some buildings are "gifts rather than impositions", but he wonders whether "architecture is, in the end, what you console yourself with once wild landscape has been subsumed".
His new book, Island Home (Picador), is both a celebration of Australia's wild places and an impassioned argument for their preservation. It's an account of his own relationship with the natural world and of how it has shaped him and his work: the landscapes of the southwest, he says, "are the bedrock of my stories and novels and they draw me back, haunt me, feed me still."
It's an account, too, of how his non-indigenous countrymen have changed their attitudes over the generations since 1788. Colonial contempt (expressed on the map in such names as "Useless Loop" and "Lake Disappointment") has given way to "a more cordial inclination"; there's a growing respect for Aboriginal wisdom, for the view that wild places are sacred; and the concerns of environmentalists, who were once dismissed as "sandal-wearing no-hopers", are now enshrined in law, taught in primary schools and even infecting the language of business. "In my own lifetime," Winton says, "the environment has started to make the kind of claims upon us that perhaps only a family can."
The book is also a warning against complacency, against developers and authorities who see environmental assessments as so much "green tape". Australia, he points out, has the highest rate of mammal extinction in the world, and in the past 30 years coral cover in the Great Barrier Reef has diminished by half.
Almost incidentally, Island Home is a masterclass in how place can be brought to book. It's shy of 200 pages and yet airy with the space of the great southern land. This is Winton on the view from a light aircraft over Northam, Western Australia:
"Spread below us, the land is flat and golden, all its undulations etched into shadow. Wheat stubble is sectioned into orderly rectangles… Rare clumps of trees stand in vivid contrast to the bleached summer pastures. When sheep move, as hot milk spilt across a tawny cloth, dust rises like steam in their wake."
He doesn't play down the dangers of the bush — crocodiles and death adders among them — but he can still make you envious that you're not tramping with him through plants with "sandpaper bark and breadknife leaves".
His pages are peppered with the local and the colloquial: mulies (southern blue pilchards), gings (catapults), gidgies (spears), moort (a small-tree form of eucalyptus) — an embrace, he says, of the particulars of his own place, and the music of his own vernacular. Chief among his influences, he says, was the novelist Randolph Stow,  (1935-2010), who was born in Geraldton, Winton's mother's home town, and died in Essex. He was a writer "who seemed to feel the country of his birth as if he wore it". The same might be said of Winton himself. MK