The Meaning of Rice — and Other Tales from the Belly of Japan
by Michael Booth
Jonathan Cape (£14.99 )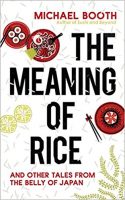 Ten years ago Michael Booth, an Englishman who had had his fill of cordon bleu cooking in Paris, took his wife and two sons to Japan to try a simpler cuisine. His book about their three-month trip, Sushi and Beyond, was a bestseller, and gave rise to a Japanese cartoon series. In that series, he jokes, his avatar is "a neurotic, pig-headed, irrational idiot… prone to pompous pontificating." He is also obese. Judging from the photograph on the cover of this sequel, the real Booth is far from tubby. His prose, though, does run to fat. I picked up his book expecting it to make me hungry; I put it down feeling stuffed.
Booth says he went back to see more of the country, to find out what's changed, and in the hope that his sons — grown from boys to teenagers — might learn some life lessons from the shokunin, or artisans and craftspeople, of Japanese cuisine. No indication there that he has much in common with the man in the cartoon. He does, indeed, share many of the qualities of his culinary heroes, including diligence and determination. But he's lacking in kaizen, the Japanese notion of constant, gradual improvement through "identifying weaknesses in their technique… refining the process… questioning every aspect of their work".
One striking change is that Okinawans, once the longest-lived of Japanese, are showing worrying levels of obesity, heart disease and diabetes, partly because of a fondness among the young for burgers and fried chicken. Booth reports on this briskly. Then he quotes a restaurateur saying the same thing. Nor is he afraid of repeating himself — though you might think it when a recently dismembered squid is referred to on second mention not as "it" but as "the unfortunate cephalopod", and melons that fetch Y3 million (£22,000) a pair become "these costly green orbs". He writes of "Scottish distillers who maintain a… vice-like grip on the past by adhering stubbornly to tradition". "It goes without saying…," he begins a passage. Often it does, but he says it anyway — in phrases ("for obvious reasons") and whole sentences: "I once read something interesting about the whisky industry."
Where repetition would be useful, it doesn't come. Soba was defined early on but not on its second mention nearly 200 pages later, but which time I had forgotten that it is wheat noodles served in a soup (in Okinawa) or buckwheat noodles served in a dipping sauce (nearly everywhere else). Thank goodness for the index — but why, in a travel book, isn't there a map?
As he makes his rounds of restaurants and shops, farms and factories, distilleries and wineries, sometimes with one or all of his family, Booth is attentive to the process of the shokunin, discriminating about their products and questioning about such practices as over-fishing for tuna. He delivers fascinating titbits. Soy sauce was served in Versailles during the reign of Louis XV (1715-1774); curry rice ("the least lovely of all Japan's popular dishes") was introduced by sailors, who learnt that the Royal Navy used it as a cure for beriberi; some people went hungry after the Fukushima earthquake of 2011 because — a chef who helped with the relief effort says — "Lots of Japanese can't even cook rice."
The titbits, unfortunately, are stirred in among more repetitive ingredients. Booth admits to being "a chronic Japanophile" and (twice, at least) to being "guilty of fetishising Japan". His mythologising bothered me more. In Hirado, the country's westernmost port, he meets Toshiyuki Matsuo, master baker of Tsutaya, "the legendary Hirado confectioner"; in Osaka he hooks up with his old friend "Hiroshi Sakurai, a television writer, musician and legendary bon viveur"; in a passage on restaurant-review websites (more dependable in Japan because people tend to avoid gushing or damning and rate establishments in the middle of a one-to-five scale), he notes that "Legendary sushi restaurant Sukiyabashi Jiro in Ginza, Tokyo… scores 3.95"; in Yoichi, on the Hokkaido coast, he meets Masataka Taketsuru, "a legend in the world of whisky", who owes his superior sense of smell, "legend has it", to a fall that broke his nose.
There were more "legends". One of them told Booth she had read his last book but didn't go on to say what she made of it. I think I know why. MK