Islander: A Journey Around Our Archipelago
by Patrick Barkham
(Granta, £20)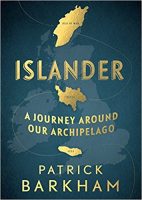 During Northern Ireland's inadequately named "Troubles", I sometimes heard people of my parents' generation, sickened by the violence, say that they were minded "to leave Ireland and go up a tree". We lived on the Causeway Coast, so one of the nearest boltholes would have been the seabird stronghold of Rathlin Island, nine miles from Ballycastle across the Sloc na Mara, "the swallow (or gulp) of the sea". Rathlin has no trees worth climbing, but it is, Patrick Barkham has recently been assured, too small to tolerate a sectarian divide. One of its long-term residents, a woman in her eighties, told him: "I don't know who my family vote for in any election because we don't discuss it. Catholic or Protestant or Mohammedan, they don't care on Rathlin."
For his last book, Coastlines, Barkham beat the bounds of the National Trust's seaside holdings. In Islander, he heads offshore. Inspired by a DH Lawrence short story about a rich idealist seeking peace on successively smaller islands, he travels through 11 outposts of the British Isles, moving from large to medium to tiny, in pursuit of "the essence of what it is to be an islander".
By his side during these journeys — taking him everywhere from the well-chronicled St Kilda to the unsung Ray Island in Essex — is the shade of the man on whom Lawrence's character was based, the writer Edward Montague Compton Mackenzie — Monty, as Barkham settles early to calling him. Besides being the author of the comic novel Whisky Galore, about islanders salvaging thousands of bottles from a shipwreck, and numerous other works that Barkham finds "a cure for insomnia", Mackenzie was besotted with islands. Having lived on Capri, Aegean islands and a South Seas atoll, he leased two Channel Islands before moving on to the Hebrides, first as owner of the Shiants, then as a resident of Barra.
Hovering in the background of Barkham's book is a recent development in which the people of an island that has long been a member of a grand continental club voted to leave it. That development is mentioned only obliquely: "When the mainland or mainstream is in crisis, people look to the periphery for escape or inspiration. Many of us are looking there right now." The book, then, is partly an account of islands as they were seen by Monty, partly one of islands as they appear to Barkham and partly an inquiry into what islands and their inhabitants might be able to teach mainlanders.
It's an illuminating and instructive tour d'horizon, one that could be read with profit by MSPs currently considering a Bill designed to ensure a sustainable future for Scotland's islands. Snappy, too: Scilly is memorably summed up as "a small archipelago mostly owned by the Duchy of Cornwall; struggling to make its way in the modern world, permanently obscured by forecasters' bottoms on the weather map of Britain."
Having written in previous books about butterflies (a passion Mackenzie shared) and badgers, Barkham is, predictably, strong on the flora and fauna. He is equally good on the people, drawing out not only their own tales of island life but those maintained over generations by oral tradition. As Lawrence put it in that short story, on an island "the past is vastly alive, and the future is not separated off".
For residents of the Isle of Man, who bridle at the phrase "tax haven", the future embraces digital or crypto-currencies (such as Bitcoin), which can be developed more quickly when you are outside both the UK and the EU and can make your own rules. For the islanders of Eigg, who famously bought out a dictatorial landlord, the priority is power to run the fridges and freezers they could never have before, provided by a green electricity grid drawing on wind, streams and sun.
Having hugely enjoyed Coastlines despite its profusion of danglers (misattached or unattached participles), I should say that I noticed none in Islander — though there is a sentence in which "A snipe zigzags up from the long grass, as if fired from a loose canon [sic]." Barkham's outings on the islands themselves would be easier to follow if the map that opens each chapter had place names and features and not just an outline. And, as at least one resident has already pointed out, Orkney, the northernmost outpost featured, has been left off the map at the front. Ah, the perils of life on the periphery… MK
This review appeared in the Review section of The Daily Telegraph on February 3, 2018