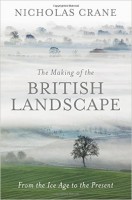 The story of Britain is one usually seen through the lens of historians — through the reigns of kings and queens; through victories, defeats and cultural currents. Last night it was the turn of a geographer: Nicholas Crane, president of the Royal Geographical Society and presenter of television series including Coast and Map Man, was launching his new book, The Making of the British Landscape: From the Ice Age to the Present (Weidenfeld & Nicolson), in which he tells the story of how the island has evolved, and how Britons have changed it and related to it through the ages.
It's a book he's been thinking about for 40 years, and working on for eight years, and which covers 12,000 years of continuous human occupation. On Monday night, he said, he had managed to "squidge" those 12,000 years into a 45-minute talk at the RGS (see the video preview below). Here — in Daunt Books in Marylebone, London — he was going to be a bit brisker: in the space of four minutes, he promised, he would carry us from the end of the Ice Age to the opening of the Shard. Well, it was four-and-a-bit, but so he did, taking in, along the way, huge shifts in temperature that had Britons thriving and freezing, a climatic spasm of 9,700 BC, when "the thermal window let in 64 million people" and the biggest landscape event of all, a tsunami 8,000 years ago that severed Britain from the Continent — "a really hard Brexit".
The Making of the British Landscape has already been reviewed in The Guardian by Andrea Wulf (author of a prize-winning biography of Alexander von Humboldt), who described it as ambitious and magnificent.