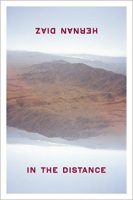 On the Twitter feed of The Paris Review, I found mention of a new novel of the American West in which it seems that setting plays a large part. It sounds like the kind of novel that might make a contender for the Royal Society of Literature's Ondaatje Prize, for "a work which evokes the spirit of a place" — except that the writer, not being British or Irish or a UK resident, probably wouldn't be eligible. It was partly his own rootlessness, indeed, that prompted him to write the book. The novel, In the Distance, is by Hernán Diaz, and published in the United States by Coffee House. Publishers Weekly, which includes it in a roundup of new fiction, says:
The novel is the set in the 19th century and concerns a young Swedish immigrant to California, Håkan Söderström, who travels eastward across the United States in the hope of finding his brother. His journey, a kind of Manifest Destiny in reverse, leads him to encounter a range of characters—to quote the publisher, "naturalists, criminals, religious fanatics, swindlers, Indians, and lawmen"—who call to mind myriad American myths and stereotypes.

Diaz is 43 and lives in New York, where he is the associate director of the Hispanic Institute at Columbia University and the managing editor of the scholarly journal Revista Hispánica Moderna. He says he began to think about writing In the Distance while reading "desert" books (works set in "desolate expanses"—not only deserts but also steppes, plains, the Pampas) and asking himself questions about the relationship between foreignness and physical isolation. "Does nationality matter if one is stranded in a void?" he wondered. "I've been a foreigner all my life," he says. "I was born in Argentina, left for Sweden when I was two, went back to Argentina briefly, then moved to London, and now I've been in New York for the last 20 years. So it's something I care a lot about."

Diaz may have staked out his desert landscape in the American West, but he isn't particularly interested in the western per se. "There are no gunslingers or saloon brawls or stagecoaches being chased in the book," he says. For him, the desertlike atmosphere of the West carries its own truth about life in America. "The vaster the desert, the more claustrophobic the confinement," he says.