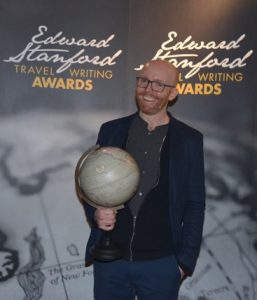 The Immeasurable World by William Atkins (Faber & Faber), an exploration of deserts and how they have been seen at different times and in different cultures, was tonight named Stanford Dolman Travel Book of the Year. It's a book in which the author journeys not only on the ground — to places including the US-Mexico border country, where he spends time with a border patrol officer and a group helping migrants — but also deep into desert literature and lore, metaphor and myth.
Atkins (right), 42, who wins £2,500, works as a freelance editor as well as a writer. After studying art history, he went into publishing, and edited prize-winning fiction. His debut, The Moor, which took him along the wet backbone of England, was short-listed for the 2015 Thwaites Wainwright Prize for nature/travel writing focused on Britain.
The Stanford Dolman, formerly the Dolman prize, after the Rev William Dolman, a member of the Authors' Club, who had been sponsoring it through the club since 2006, was rebranded in 2015. It is now the centre-piece of a scheme run by the bookseller Stanfords and named after its founder: the Edward Stanford Travel Writing Awards. That embraces travel-related books in categories from food and drink to children's travel via fiction, but the Stanford Dolman is the only award that brings a cash prize (cut this year from £5,000).
An award for an outstanding contribution to travel writing was made to Colin Thubron, who has alternated between fiction and non-fiction and whose travel books, including Among the Russians, Shadow of the Silk Road and To a Mountain in Tibet, are acknowledged as classics of the genre. Thubron, who will be 80 in June, has said in the past that he feels ambivalent about travel writing: "My carbon footprint doesn't bear thinking of, but I feel that the physical interchange of peoples must be a softening factor in today's mounting xenophobia, and travel still a kind of understanding."
Winners in other categories included Adam Weymouth for Kings of the Yukon: An Alaskan River Journey (adventure travel), Guy Stagg for The Crossway, on his pilgrimage from Canterbury to Jerusalem (travel memoir) and Caroline Eden for Black Sea (travel food and drink).
For a full list of the awards and books that were short-listed, see the Edward Stanford Travel Writing Awards site.