Cheltenham is the festival to head for in October if you want to pack a lot of vicarious travelling into 10 days. These are some sessions from the programme touching on travel, place and nature…
Cheltenham Literature Festival (October 5-14)
In "Reading Europe: A User's Guide", the novelist Sebastian Faulks assembles a crack team of translators, writers and publishers committed to getting us to read beyond our borders: the novelist and Man Booker International judge Elif Shafak, the acclaimed translator Daniel Hahn, the European literature specialist Rosie Goldsmith and the publisher Christopher MacLehose, who has introduced British readers to authors as diverse as Javier Marías and Stieg Larsson.
Guy Stagg (The Crossway), who walked 3,440 miles from Canterbury to Jerusalem in the hope of mending himself after mental illness, and Leon McCarron (The Land Beyond), who travelled 1,000 miles on foot through the Middle East, discuss with Julia Wheeler the transformative power of walking and what role pilgrimage and slow travel have in our contemporary turbulent world.
Peter Moore, author of Endeavour: The Ship and Attitude That Changed the World, and Laura Walker, co-curator of the celebrated British Library exhibition James Cook: The Voyages, join Steven Gale to discuss Cook's remarkable journeys.
Malachy Tallack (The Valley at the Centre of the World) and Melissa Harrison (All Among the Barley) discuss with Julia Wheeler their much-praised renderings of the natural world.
Sulaiman Addonia (Silence Is My Mother Tongue), a novelist who fled Eritrea as a refugee in childhood, and Olivier Kugler (Escaping War and Waves), a reportage illustrator who has worked with Médecins Sans Frontières, join Lliana Bird (radio presenter and co-founder of the charities Help Refugees and The Kindly Collective) to share their stories of encounters with refugees.
In "Windrush Journeys: Mixtape Stories", Anthony Joseph, Nick Makoha and Roger Robinson offer a night of poetry and prose, music and image. They tell public and private stories of the lives of those who have come from elsewhere but who have all, for better or worse, called Britain "home".
The television presenter Kate Humble talks about Thinking on My Feet, her new celebration of the pleasures of walking.
All roads used to lead to Rome. Today, we're told, they lead to Beijing. Peter Frankopan, author of The Silk Roads, brings the story of his 2015 global bestseller up to date, and reminds us that we live in a profoundly interconnected world.
The singer-songwriter Nick Harper presents "A Wiltshire Tale", a journey through his home county's history, landscape and wildlife in poetry, spoken word and acoustic music.
The poet Helen Mort, editor of Waymaking, and some of her contributors share their crowd-funded anthology of prose, poetry and artwork created by women and inspired by wild places, and discuss how we can get more women both out in the wild and on to the page.
Anna McNuff (The Pants of Perspective: One Woman's 3,000km Running Adventure Through the Wilds of New Zealand) and Phoebe Smith (Wilderness Weekends; Extreme Sleeps; and Wild Nights: Camping Britain's Extremes) discuss breaking down the barriers facing women in the outdoors and offer practical tips for building an adventurous life.
Jan Morris, who has been one of the great chroniclers of our world for well over half a century, looks back on a life of travel and words in a special pre-filmed interview complemented by live discussion from her son Twm Morys and the writer Paul Clements plus a musical performance by Tym and the Welsh singer Gwyneth Glyn. Chaired by Philip Collins.
Julian Sayarer, whose Interstate: Hitchhiking Though the State of a Nation was 2016 Stanford Dolman Travel Book of the Year, and Tim Moore, whose latest book, Another Fine Mess: Across Trumpland in a Model T Ford, is due out in November, discuss with Georgina Godwin their unconventional journeys and taking the political temperature through encounters with everyday Americans.
Other events featuring writing on travel, place and nature in October include the following:
Birmingham Literature Festival (October 4-14)
In a session on "The Call of the Wild", Abi Andrews (author of The Word for Woman Is Wilderness), Katharine Norbury (author of The Fish Ladder and editor of a forthcoming anthology, Women on Nature) and the writer and gardener Alys Fowler (author most recently of Hidden Nature: A Voyage Of Discovery) discuss "the life-changing impact of travelling across lesser and greater spaces".
Jasper Winn, author of Waterways, and Nancy Campbell, the current Canal Laureate (appointed by the Poetry Society and the Canal & River Trust), share their passion for Britain's canals.
David Lindo, author of How to Be an Urban Birder, and Kate Bradbury, author of The Bumblebee Flies Anyway, discuss "the new nature writing" and finding inspiration in urban settings.
Hometown Tales, a new series from Weidenfeld & Nicolson, focuses on fiction and non-fiction from the regions, pairing in one volume a previously unpublished writer with an established one. Maria Whatton, who has written Hometown Tales: Birmingham with Stewart Lee, and Kerry Young and Carolyn Sanderson, who share bylines on Hometown Tales: Midlands, will discuss their stories in a session chaired by the lecturer and author Anna Lawrence Peitroni.
Yeovil Literary Festival (October 25-29)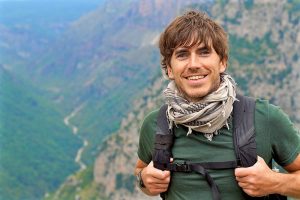 Picture: © Shoot and Scribble
A talk by the globe-trotting adventurer Simon Reeve (left), whose memoir Step by Step: The Life in My Journeys has just been published, is sold out, but there are still tickets for the following:
The illustrator Jackie Morris talks about The Lost Words, the book of "spells" she created with Robert Macfarlane, which has worked magic in encouraging children and their schools to reconnect with the natural world.
The adventurer and explorer Benedict Allen tells "the whole unvarnished truth" of his expedition to Papua New Guinea, from which he was rescued by helicopter from a warzone, suffering both malaria and dengue fever.
The film-maker David Parker presents "Laurie Lee: The Lost Recordings", in which the writer, on his 80th birthday, shared memories of his early life; and "Flying Scotsman & The Golden Age of Steam", with clips from Parker's filming of a project to rebuild the locomotive.
Berwick upon Tweed Literary Festival (October 18-21)
The journalist Neil Ansell talks about The Last Wilderness, based on a series of solitary walks in the Northwest Highlands in search of wildlife encounters, and explores the pleasures and pains of being isolated in the wilds.
Blenheim Palace Festival of Literature, Film & Music (October 11-14)
Adam Sisman talks about More Dashing: Further Letters of Patrick Leigh Fermor, his second selection from the travel writer's correspondence.
Borderlines Carlisle Book Festival (September 27 – October 7)
Jim Crumley will talk about his new book, The Nature of Winter, and its predecessor, The Nature of Autumn, the first two volumes in a quartet based on thousands of hours of fieldwork. He will also present a workshop on nature writing, explaining "why it is literature's problem child", and why a healthy body of such work is essential in the 21st century.
The writer and radio presenter Stuart Maconie will talk about Long Road from Jarrow, his account of the country he saw as he walked the 300 miles to London in 2016 in a retracing of the "Jarrow Crusade" of 1936.
Graham Robb will talk about The Debatable Land, his story of a territory that once lay between Scotland and England, and of how contemporary nationalism and political turmoil threaten once again to unsettle the cross-border community.
Dorchester Literary Festival (October 17-21)
Jasper Winn will be talking about Waterways: A Thousand Miles on Britain's Canals, and Tony Juniper (campaigns director for the Worldwide Fund for Nature) about Rainforest: Dispatches from Earth's Most Vital Frontlines.
Durham Book Festival (October 6-14)
Damian Le Bas discusses The Stopping Places, his account of what it means to be a Gypsy in Britain today.
Isle of Wight Literary Festival (October 11-14)
Robin Hanbury-Tenison talks about Finding Eden, his story of a year in the Borneo rainforest leading the team of scientists that launched the rainforest movement and his time with the Penan people, for whom he still campaigns as president of Survival International.
Angus Roxburgh, who has been a foreign correspondent in Moscow for The Sunday Times and the BBC and a translator of Tolstoy, draws on his memoir Moscow Calling to talk about Russia's past and present.
The writer and broadcaster Paul Heiney talks about One Wild Song, his account of the epic sailing trip he embarked on after his son's suicide.
North Cornwall Book Festival (October 4-7)
Neil Ansell (see Berwick, above) talks to the historian Lisa Cooper about The Last Wilderness.
Philip Hoare, who seems as much at home in water as on land, talks about RisingTideFallingStar, his compendium of human and animal stories of the sea, which was short-listed for last year's Stanford Dolman Travel Book of the Year award.
Horatio Clare, who has travelled on container ships and in pursuit of swallows, talks about Icebreaker, his account of a voyage to the far North. (Next month, Little Toller is due to publish Clare's latest book, Something of his Art: Walking to Lübeck with JS Bach, in which he recreates a journey across northern Germany that the composer took in the winter of 1705.)
Laurence Rose, former head of the RSPB's European programme, introduces The Long Spring, in which he tracks the season's progress from southern Spain to the Arctic.
Off the Shelf Festival of Words, Sheffield (October 6-27)
Iain Sinclair talks about The Last London, which is billed as the final chapter in his life-long odyssey through the streets of the Big Smoke.
John Harrison reads from his first collection of short fiction for more than 15 years, You Should Come With Me Now, a work that his publishers say crosses boundaries between horror, science-fiction, fantasy and travel writing — "weird stories for weird times".
Richard Morris, author of Yorkshire: A Lyrical History of England's Greatest County, tells how the county took shape as a place and an identity.
Kate Humble (see Cheltenham, above) talks about Thinking on My Feet.
Helen Moat, author of Slow Travel: Peak District, introduces a guide with an emphasis on car-free travel.
Wells Festival of Literature (October 19-27)
Harriet Sandys introduces Beyond That Last Blue Mountain, the story of how she "abandoned her comfortable life in the suburbs of Cumbria and travelled to the North-West Frontier of Pakistan to see the plight of the Afghan refugees who settled there after the Soviet invasion of Afghanistan".