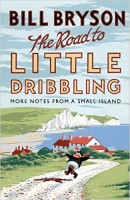 Bill Bryson turns his attention to Britain again in his first travel book in 15 years, The Road to Little Dribbling: More Notes from a Small Island, which is due to be published in October. At the Cheltenham Literature Festival (October 2-11), he'll be telling Mark Lawson how his adopted home has changed since he went round it for Notes from a Small Island more than 20 years ago.
Also at Cheltenham, Robert Macfarlane will talk about the relationship between words and landscape and how language shapes our sense of place, as explored in his latest book, Landmarks; James Attlee (Station to Station), who was writer-on-the-train for First Great Western, Veronica Henry, who was writer-in-residence on the Venice Simplon Orient Express, and Horatio Clare, author of Down to the Sea in Ships (shortlisted for this year's Stanford Dolman prize), will discuss how travel inspires creativity; Clare will be chairing another session, "a light-hearted journey around the British Isles", with Matthew Clayton (Lundy, Rockall, Dogger, Fair Isle) Nicholas Crane (Coast) and Malachy Tallack (Sixty Degrees North); the guidebook publisher Hilary Bradt (To Oldly Go) and the journalist and author Simon Winchester (Pacific) will talk about their shared passion for hitchhiking; and Rory MacLean, author of Berlin: Imagine a City, will pay homage to that place with Peter Schneider, author of the novel The Wall Jumper, and Frank Schröder, founder of the blog iHeartBerlin.
For details of events, see the festival website.