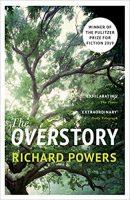 Norman Maclean's A River Runs through It, a collection of stories he didn't start writing until he was 70, is now generally acknowledged as a mini-masterpiece, with one of the most memorable opening lines in American literature: "In our family, there was no clear line between religion and fly fishing." It took a while, though, before he found an appreciative publisher. As one said in returning the manuscript, "These stories have trees in them."
How much more is that true of Richard Powers's The Overstory (Vintage)! In this branching, twining, 600-page redwood of a novel (winner of the Pulitzer Prize and short-listed for the Man Booker)*, nine disparate people — among them a Vietnam veteran, a scientist and a video-game designer — are brought together by trees and, in a world where the felling of forests is speeding global warming, do all they can to save them.
"To be human," we're told in one passage, "is to confuse a satisfying story with a meaningful one, and to mistake life for something huge with two legs. No: life is mobilised on a vastly larger scale, and the world is failing precisely because no novel can make the contest for the world seem as compelling as the struggles between a few lost people." No novel? This one does.
I've not read any of Powers's other work, but I gather he's been ticked off sometimes on the ground that his novels are brainy but impersonal; all head and no heart. That criticism can't be levelled at The Overstory, which has thoroughly believable characters — even though the author has said that the central question he is addressing is this one: "What would it take to make you give the unquestioning sacredness that you give to humanity to other things?"
It's a book full of memorable phrase-making: the sound of wind-shaken aspens is "polite applause"; the wood-wide web, by which individual plants are linked to one another beneath the soil, is "their underground welfare state"; campaigners are moved to action by the realisation that "We're cashing in a billion years of planetary savings bonds and blowing it on assorted bling."
The Overstory as a whole is a reminder — and I've pinched this from the author — that there's a dead metaphor at the heart of the word bewilderment. Since reading it, I've been seeing trees in an entirely different way. Hearing them differently, too. When I walk through the nearest park, there's a new message in the wind-swished branches of an avenue of horse chestnuts. Back to Norman Maclean, who finished the title story in A River Runs through It with this line: "I am haunted by waters." Me too. And now I'm also haunted by Powers.
*I'd read reviews, but didn't get round to buying The Overstory until May, after Robert Macfarlane had urged me, during an interview, to read it