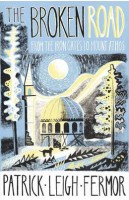 Who would collect the prize if The Broken Road, the third part of Patrick Leigh Fermor's account of his youthful walk across Europe in the 1930s, were to win the Dolman Travel Book Award? It's on the long list of books being considered, which was released yesterday.
Leigh Fermor died in 2011 at the age of 96, leaving the narrative unfinished. It was two of his three literary executors, his biographer, Artemis Cooper, and Colin Thubron, who readied it for publication. When it appeared last September, Thubron introduced an extract published in The Sunday Telegraph with these words:
"A Youthful Journey [Leigh Fermor's working title] was largely written between 1963 and 1964, in prolix bursts of enthusiasm, and its grammar, punctuation and even its style were far from what Paddy considered finished. In our revision we laboured to preserve his inimitable style, while clarifying and refining the text in a process as close as we could get to his exacting practice. There is not a sentence that is not his.
"But The Broken Road is our own title. It acknowledges not only that Paddy never, in the end, continued his written journey to Constantinople – it stops 50 miles short of the Turkish frontier – but also that this is not the exuberantly polished volume that he would have most desired. Yet it includes passages perhaps as fine as any he wrote. Its editing was aided by our sense of Paddy's previous work, of course, by our knowledge of the man himself, and by his few hints and tentative suggestions. And here his journey must rest."
Nick Hunt's account of following in Leigh Fermor's footsteps 78 years later, Walking the Woods and the Water (Nicholas Brealey), wasn't published until this year, so won't yet be eligible for consideration for the Dolman, which is for books that have appeared the previous year.
Writers who do have books on the long list of 16 include the travel veterans Dervla Murphy, Sara Wheeler and Paul Theroux (who suggested his, on Africa, would mark his "valedictory trip"), and those cargo-ship crew members Rose George and Horatio Clare. My Telegraph colleague Christopher Howse is also there, with The Train in Spain.
 The award (now £2,500), made by the Authors' Club and founded by one of its members, the Rev Dr William Dolman, is this year being organised on behalf of the club by Barnaby Rogerson, guidebook writer, historian and publisher of travel classics at Eland Books. His fellow judges are Sarah Anderson, who ran the Travel Bookshop for 25 years in Notting Hill, Martin Randall, founder of the cultural-holidays company that bears his name, the travel writers Anthony Sattin and Jeremy Seal, and Amy Sohanpaul, editor of Traveller magazine and co-editor of Renegade, a new magazine that, like Deskbound Traveller, is dedicated to travel storytelling.
 No date has been set yet for publication of a short list, but the award is due to be made on September 30.
The long list is:
The Last Man in Russia by Oliver Bullough (Allen Lane)
Down to the Sea in Ships by Horatio Clare (Chatto & Windus)
Walls: Travels along the Barricades by Marcello Di Cintio  (Union Books/Aurum)
Deep Sea and Foreign Going by Rose George (Portobello)
The Broken Road by Patrick Leigh Fermor (John Murray)
Under Another Sky by Charlotte Higgins (Jonathan Cape)
The Train in Spain by Christopher Howse (Bloomsbury)
A Month by the Sea by Dervla Murphy (Eland)
Italian Ways by Tim Parks (Harvill Secker)
Ancient Paths by Graham Robb (Picador)
American Smoke by Ian Sinclair (Hamish Hamilton)
Alexandria by Peter Stothard (Granta)
Consolations of the Forest by Sylvain Tesson (Allen Lane)
The Last Train to Zona Verde by Paul Theroux (Hamish Hamilton)
O My America by Sara Wheeler (Jonathan Cape)
Meet me in Gaza by Louisa B Waugh (Saqi/Westbourne Press).