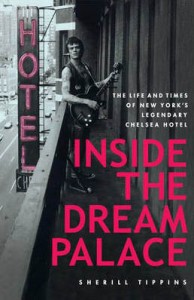 I'm looking forward to Inside the Dream Palace, Sherill Tippins' requiem for the Chelsea Hotel, which arrived in the post this morning. My appetite's been whetted by a couple of reviews that have already appeared. My colleague Mick Brown's, in print in today's Telegraph Review but not yet online, begins:
"It is hard to think of a single building – let alone a single hotel – in the world that over 125 years could have entertained such a diverting and deranged array of residents as the Chelsea Hotel in New York. Alcoholic writers, suicidal artists, Trotskyites, drag queens, punk rockers – the Chelsea has been home to them all, and that's before we even consider the magnificent George Kleinsinger, composer of the children's symphony Tubby the Tuba, who transformed his room in the hotel into a tropical rainforest, with 12ft trees imported from Borneo and Madagascar and a menagerie of exotic birds, a monkey, a pet skunk and a 5ft iguana."
Jeremy Hardy, commending Tippins's "exhaustive, fascinating life and times of the hotel" in the London Review of Books, offers, as an aside, a novel way of dealing with bed bugs.