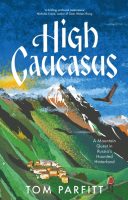 In September 2004, Beslan School No. 1 in the Russian republic of North Ossetia, in the Caucasus, was taken over by dozens of militants demanding freedom for nearby Chechnya. Tom Parfitt was among journalists who covered the bloody climax, in which 314 hostages died, more than half of them children. The experience left him traumatised, struggling to find a way to get back to his life as a correspondent in Moscow. He turned to his love of walking as a source of both recuperation and discovery. In High Caucasus (Headline, July 20, £25), his publisher says, "he shares his remarkable thousand-mile quest in search of personal peace – and a greater understanding of the roots of violence in a region whose fate has tragic parallels with the Ukraine of today". The book, which has been much praised in advance of publication, is reviewed this week in The Spectator by Justin Marozzi. It is, he says, "a work of extraordinary imaginative empathy and power. Parfitt has an enviable combination of language and journalistic skills, together with an open heart and a willingness to talk to everyone along the way, from shepherds and village headmen to teachers and policemen. He is a story-extracting machine, revelling in, and paying tribute to, the time-honoured traditions of hospitality that lighten his path."
In Call of the Kingfisher, published today (Bradt Guides, £9.99), Nick Penny, a musician and instrument-maker, offers what he calls "a love letter to a short stretch of the River Nene… in Northamptonshire. That love extends to all the wild things that live there, and especially the kingfishers." The book is complemented by recordings of birds and other wildlife that readers can listen to online.
In Walking the Wharfe (Bradt Guides, August 10, £9.99), Johno Ellison — who set Guinness World Records for driving a London black cab around the world — returns to his Yorkshire roots, following the river 95 miles from mouth to source, and retracing the steps of a 19th-century writer, Edmund Bogg.