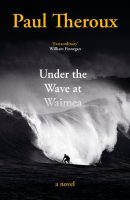 Paul Theroux turned 80 this month, but he's still behaving like a writer keen to make a name for himself. Last Train to Zona Verde, which he published in 2013, may have been, as the subtitle has it, his "ultimate African safari", but it wasn't his last travel book. Since then, he has driven through the southern US for Deep South and through Mexico for On the Plain of Snakes; in between, he delivered an essay collection, Figures in a Landscape, on people and places.  
  His latest book, Under the Wave at Waimea, is his 56th. It's a work of fiction about a man who has done some travelling himself, but who never reads: Joe Sharkey, a big-wave surfer on the Hawaiian island of Oahu, who is struggling to come to terms with the dimming of fame and the advance of age. 
  Driving back drunk one night to his home on the north shore, Joe kills a homeless man on a bicycle near Waimea, and his own life takes a turn for the worse. Then his new girlfriend, Olive, an English nurse, intervenes. She makes Joe confront what he's done and help her establish the dead man's identity. In the process, Joe pulls himself together and gets back on his board.
  Under the Wave at Waimea is about the joys of surfing ("a rush, a feeling, a dance"), about living a lie, and about the unseen life of Hawaii. This week I talked to its author about fiction, travel and the post-pandemic future. An edited version of the interview is now up on the Telegraph website (where you'll have to register to read it) and will be in print in the travel section of The Daily Telegraph tomorrow.