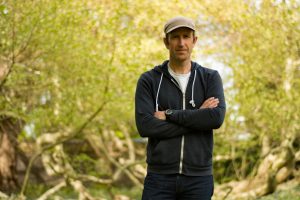 Back out in the light: Robert Macfarlane, in front of the Oriental plane at Emmanuel College, Cambridge. Picture © MICHAEL KERR
In his latest book, Underland: A Deep Time Journey (Hamish Hamilton), Robert Macfarlane travels into the world beneath our feet and what we've made of it — physically, with mines and tombs, and metaphorically, with myths and legends. It takes him from Bronze Age funeral chambers in Somerset, via the catacombs of Paris, to a nuclear bunker in Finland. It's a book that expands our notions of what constitutes landscape. It's one full of wonders — in Kulusuk, Greenland, he celebrates "the wildest land I have ever seen" — but also of warnings of the harm we are doing in this overheated age of the Anthropocene.
A week before publication, I went to Emmanuel College in Cambridge, where Macfarlane teaches, to talk to him about what he calls "the hardest book I've ever written". He's spent a lot of time recently in dark, poky places, so I wasn't surprised when he wanted to make the most of a sunny day and sit outside. We talked in the Fellows' Garden, yards from a celebrated Oriental plane that was planted some time in the 1800s and seems to have as many branches reaching down as up. I wrote a piece for Telegraph Travel that appears in print today and is also online (though you'll have to register to read it). You can read a fuller version of our chat here on Deskbound Traveller, including Macfarlane's recommendations of new writing on travel and place. It runs to more than 4,000 words, so you might want to read it on something other than a phone.