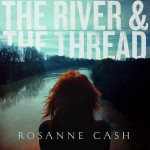 Rosanne Cash's The River & The Thread, one of my favourite albums of 2014, won her three awards this month in the "American roots" category of the Grammys: the song A Feather's Not A Bird won for best performance and song, and the album was best Americana album. It would make the perfect soundtrack, too, for a tour of the South.
A couple of years ago in The Oxford American, which proudly bills itself as "the Southern magazine of good writing", Cash wrote an article (including lyrics from The River & The Thread) on how Tennessee "got imprinted on my soul". Here's a sample:
"I've been a New Yorker for more than twenty years, but my memories of the South are potent. Some are truly mine, and some I have borrowed. Tutwiler Street and Nakomis Avenue, the corner candy store and the tired shoulder of a big man. The shining dark-blond wood of the trolley buses, the big silver ribbon microphones in Sun Studios, the marquee of radio station WDIA. The dollar bills that floated over Old Hickory Lake, the old country psychic who scared me because she saw my real life, the whispered voices in the movie line, and the dark green fence on Franklin Road. These are what I have, along with the unchanging verdant landscape, sprinkled with lightning bugs. These memories form a backdrop to a stand-up bass and an acoustic guitar, an image that evokes both the past and the future."
You can still read the whole piece on The Oxford American website.