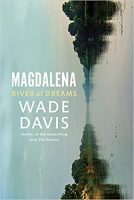 Exploration, Wade Davis declares in a piece this week for the Financial Times, has too often been driven by a desire for personal glory and fame. The same, he reckons, is true of much travel writing. He urges us to follow the examples of Rasmussen and Herodotus, and to see "beyond the shadow of self".
Davis has just published an account of what he calls "the Mississippi of Colombia", Magdalena: River of Dreams (Bodley Head, £14.99), a book he was researching and writing for nearly five years. He says:
I came to know the river… in all its dimensions, in all months of the year, with every shift of the seasons, from the headwaters in the Macizo Colombiano to the sand and stones of the Caribbean shore. At no point, however, was I tempted to paddle the Magdalena from source to mouth, or to travel its length in a single journey, hitching rides perhaps on a series of barges and river boats. Admirable as such achievements might be, my goal was not to produce a study of self, an account of a personal journey; it was to write a biography of Colombia through the metaphor of the river that made possible the nation. When in doubt, an author should always get out of the way. Building a narrative around self is to travel writing what false heroics are to exploration.
Reviews of Magdalena have appeared in publications including The Guardian and The Spectator.