Gatwick airport in London is expecting its busiest day of the year for outbound passengers this Friday, with 84,000 heading off. Given the security queues they're likely to join, most of those passengers will understandably be thinking  of the flight as a necessary inconvenience en route to the beach, something to be endured rather than enjoyed. Could they be persuaded to change that view? Maybe by reading some of the following…
Skyfaring: A Journey with a Pilot by Mark Vanhoenacker (Vintage)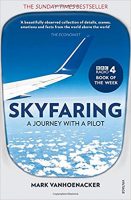 If you've made expensive journeys to the far north and been denied a sighting of the aurora borealis, you might want to skip the chapter on night flights. "Sometimes," Vanhoenacker writes, "I find it hard to remain interested… because [the northern lights] appear so regularly; because they are routine to pilots, ordinary by definition." Flying, on the other hand, which for most of us means a long wait followed by a cramped seat, is for him a thing of wonder, and a pair of wings "this most charmed of our creations".
Vanhoenacker, who flies 747s for British Airways, was born in America – to be a pilot, clearly. Taken to Disney World as a child, he couldn't wait to get back on "the magical vessel" that had brought him there. Having worked as a management consultant (with time to stare out aircraft windows) to pay off student debts, he began flight training in 2001 and is now a senior first officer with BA – and one of those lucky people who can change the weather. If he wakes to an overcast sky in London, he knows he'll be rising above it.
Join him on his journey, and you'll see immediately that he's anything but the aviation equivalent of a petrolhead. In his hymn to "the business of guiding vessels between blue-parted cities", he touches on Joni Mitchell as well as Mach 1, on T S Eliot as well as tailwinds. In the pages of his book, if not necessarily on your next outing in the economy cabin of his 747, you will find yourself agreeing that "The ordinary things we thought we knew… become more beautiful."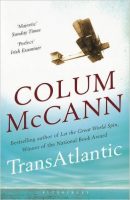 TransAtlantic by Colum McCann (Bloomsbury)

Through the lives of a fictional family, McCann links three episodes from history: the first non-stop transatlantic flight; the visit of a freed American slave to Ireland; and Senator George Mitchell's peace-broking in 1990s Belfast. In a cat's cradle of journeys, the most powerful passages are probably those on the flight in 1919, by Alcock and Brown, in their Vickers Vimy from Newfoundland to Clifden, in Connemara. It's a sustained feat of imagination in which McCann inhabits not just the cockpit but the minds of the aviators.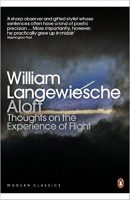 Aloft by William Langewiesche (Penguin Modern Classics)
Before he was a writer for Atlantic Monthly and Vanity Fair, Langewiesche worked as a pilot for 15 years from the age of 18, so editors have pushed him towards aviation. In this collection of essays, he considers how we move about the earth and how we view our place within it. Some are frightening, some reassuring, but all of them are "suffused with the wonder I still feel that as a species we now find ourselves in the sky".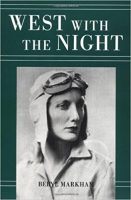 West With The Night by Beryl Markham (North Point Press/Macmillan)
Beryl Markham (1902-1986) grew up in Kenya, hunting with the Maasai, worked as a bush pilot and became the first woman to fly the Atlantic solo from east to west. Her memoir culminates with that feat and her Zen-like response when, somewhere over Cape Breton, her engine cut out. Hemingway, who was no fan of hers, said: "[she] can write rings around all of us who consider ourselves as writers… it really is a bloody wonderful book."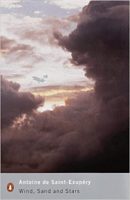 Wind, Sand and Stars by Antoine de Saint-Exupéry (Penguin Modern Classics)
Saint-Exupéry (1900-1944) might not have been a model pilot, prone as he was to day-dreaming at the controls and near-fatal crashes, but he made poetry of his experience. This book, which recounts his years flying airmail routes across the Sahara and the Andes, culminates with the story of his miraculous survival following a crash in the Liyban desert in 1936 while he was trying to break the Paris-Saigon record.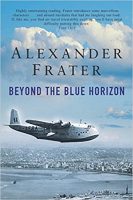 Beyond the Blue Horizon by Alexander Frater (Penguin)

Alexander Frater's first flight, on December 31, 1946, a few days before his ninth birthday, was on an Empire flying boat from Sydney to the Fiji Islands. In the mid-1980s, he set out to try to recapture the romance of it, following as closely as possible the route taken by Imperial Airways from London to Brisbane in the 1930s. His booklet of tickets was "probably the largest ever issued on British Airways coupons".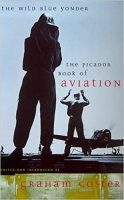 The Wild Blue Yonder: The Picador Book of Aviation edited by Graham Coster (Picador)
This 1997 anthology (edited by my friend and former publisher) includes extracts from Saint-Exupéry, Markham and Frater. If Coster were asked to update it, I'd urge him to add pieces from Langewiesche, Vanhoenacker and McCann. As it stands, though, taking in everyone from WB Yeats to Tom Wolfe by way of Biggles, it's the perfect rejoinder to Paul Theroux's assertion (in The Tao of Travel) that "there is not much to say about airplane journeys".