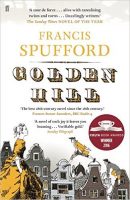 "Since all that remains of the place I evoked in my book is a street plan and a metal railing, I feel I must point out that I made it all up." So said Francis Spufford last night on being awarded the Royal Society of Literature's £10,000 Ondaatje Prize for a book "evoking the spirit of a place". The book was Golden Hill (Faber & Faber); the place was New York in colonial days, when Broadway was the Broad Way, "a species of cobbled avenue, only middling broad…"
If it's an imagined city, it's also a thoroughly realised and believable one. This is the scene that Spufford's hero, a young Englishman intent on making his way in the New World, sees on his first morning:
He jumped out of bed and threw the casement wide – rooftops and bell towers greeted him; a jumble, not much elevated, of stepped Dutchwork eaves and ordinary English tile, with the greater eminences of churches poking through, steepled and cupola'd, and behind a slow-swaying fretwork of masts; the whole prospect washed with, bright with, aglitter with, the water last night's clouds had shed, and one – two – three – he counted 'em – six crumbs of dazzling light hoisted high that must be the weathercocks of the city of New-York, riding golden in the hurrying levels of the sky where blue followed white followed blue…

Wagon-drivers, hawkers with handcarts and quick-paced pedestrians were passing in both directions. Somewhere below too, hidden mostly by the branches, someone was sweeping the last leaves, and singing slow in an African tongue as if their heart had long ago broken, and they were now rattling the pieces together desultorily in a bag.
Golden Hill marked Spufford's debut in fiction, at the age of 52, and has already won him the Costa First Novel Award and been short-listed for the Desmond Elliott Prize, but it is certainly not his first book to appear on a short list. Five works of non-fiction — including The Child That Books Built — have earned him nominations for writing on everything from science to theology. He was short-listed in 2011 for the RSL Ondaatje Prize for Red Plenty, a "factional" account of Soviet Russia.
Summing up this year's Ondaatje short list before the award was made, the author and critic Henry Hitchings, speaking for the judges, said Golden Hill was "that rare thing: an ingenious novel that draws on profound research to evoke the spirit of another age, yet wears that research lightly. An astonishing achievement, intoxicating in its virtuosity."
Spufford has said he began the book as an account of 18th-century New York, "but then the characters… wandered over from the other side of my brain, and the expository stuff about the city could be sucked into the storytelling."
Last year's RSL Ondaatje Prize short list was unusual in that it included a poetry collection — for the first time in seven years — and had no novels. This year, all but one of the books were fiction. The exception was The Outrun by Amy Liptrot (Canongate), a memoir of addiction and recovery and the part played in the latter by the natural world on Orkney.
The other books were:
In A Land of Paper Gods by Rebecca Mackenzie (Tinder Press)
Augustown by Kei Miller (Weidenfeld & Nicolson)
Five Rivers Met on a Wooded Plain by Barney Norris (Doubleday)
The Gustav Sonata by Rose Tremain (Chatto & Windus.
Judging the prize with Hitchings were the cultural historian Alexandra Harris (short-listed last year for Weatherland, an account of how weather has been written and painted in England through the centuries), and the poet Mimi Khalvati.
Now in its 14th year, the RSL Ondaatje Prize is sponsored by Sir Christopher Ondaatje, the businessman, adventurer and writer. Last year's winner was Nothing Is True and Everything Is Possible, by Peter Pomerantsev, an electrifying portrait of Vladimir Putin's Russia.