(returning to Bombay after 26 November 2008)
This time we didn't circle each other,
the city and I,
hackles raised,
fur bristling.
This time there was space
between us
and we weren't competing.
Space enough and more
for the nose-digging librarian
and her stainless steel tiffin box,
for the Little Theatre peon
to read me endless Marathi poems
on rainy afternoons,
for the woman on the 7.10 Bhayandar slow
with green combs in her hair
to say
and say again
He's coming to get me
He's coming.
This time
the city surged
towards me,
mangy,
bruised-eyed,
non-vaccinated,
suddenly
mine.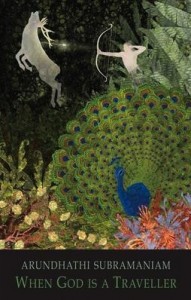 Extracted from When God is a Traveller by Arundhathi Subramaniam (Bloodaxe Books).
© Arundhathi Subramaniam 2014.
Arundhathi Subramaniam divides her time between Bombay (where she works as a writer, curator and editor) and a yoga centre in south India. She has published two books of poetry in Britain with Bloodaxe, Where I Live: New and Selected Poems (2009), which combines selections from her first two Indian collections, On Cleaning Bookshelves and Where I Live, with new work; and When God is a Traveller (2014), which was a Poetry Book Society Choice and and short-listed for the TS Eliot Prize.