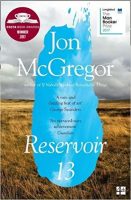 I've had little time to read fiction lately because I've been helping to judge the Stanford Dolman prize. One novel I have read — thanks to my younger daughter, who bought me it at Christmas from a wish list on a website that needs no plugging — is Jon McGregor's Reservoir 13 (4th Estate). I can't recommend it highly enough. And I see from the author's Twitter account that it's out today in paperback.
James Joyce once declared that "Literature deals with the ordinary; the unusual and extraordinary belong to journalism." Reservoir 13 opens with a news story, the disappearance of a 13-year-old girl in the hills above an English village over the New Year break. The puzzle over her fate lends a quiet menace to the book, which is otherwise full of the life that doesn't make news; with things that wouldn't interest a reporter — except, maybe, the one living in the village who singlehandedly writes and edits and prints the Valley Echo. In Northern Ireland, where I grew up, I would come home from school and ask my mother if there was any news. Most often she would answer: "Oh, nothin' pass-remarkable." Nothing worth passing remarks on. Nothing worth mentioning. McGregor, having opened with the stuff of tabloid headlines, makes compelling what shouldn't be pass-remarkable.
Most of the characters in Reservoir 13 are not introduced; they appear in the story as we would happen upon them in the street if we lived in the village. The first is mentioned in passing almost, in relation to his ownership of livestock: "Jackson's sheep had taken the fear [spooked by the search helicopter] and scattered through a broken gate, and he'd been up all hours bringing them back."
A few pages later:
"Jess Hunter came over from the main house with a cup of tea…"
"One of the Jackson boys bucked a quad bike across the field and told the journalists to move."
As in life, so in fiction: some of these people are more memorable than others, but like a new arrival in the village you quickly figure out not only who's who but what's what. When you learn (or maybe that should be hear) early on that "the police held a press conference in the Gladstone", you don't need to be told what normally goes on there.
Passages are written without paragraph breaks, dialogue without quotation marks, so that everything flows into everything else, everything connects: "The cement works were shut down to allow for a search. In a week the first snowdrops emerged along the verges past the cricket ground, while it seemed winter had yet a way to go." There's a rhythm about sentences in keeping with the rhythms of day and season and year.
While the missing girl is being searched for, everyday life goes on, as it must, so Reservoir 13 is about teenagers growing up and a farmer growing infirm; about an opportunistic young stud and a lonely old widower; about the blossoming of love and the breakdown of relationships; about the joys and the pains of parenthood; about success and failure. It's about well-dressing too. Somehow, it captures routine while being far from routine.
It's also — and that's why I'm mentioning it on Deskbound Traveller — powerfully evocative of place. That place has reservoirs and a river, a cricket ground and allotments, a quarry and cement works. Its location is vague — though it's one subject to flooding and freezing and riven with cloughs. (In the acknowledgements, there's mention of the Peak District.) The village is never named, yet somehow McGregor manages to make it singular and distinctive while being instantly familiar.
The book has already won the 2017 Costa Novel Award and been short-listed for the Goldsmiths Prize and long-listed for the Man Booker Prize. I hope the publishers have entered it, too, for the Ondaatje Prize of the Royal Society of Literature, which is for "a distinguished work of fiction, non-fiction or poetry evoking the spirit of a place".