The Beast: Riding the Rails and Dodging Narcos on the Migrant Trail
By Óscar Martínez
(Verso)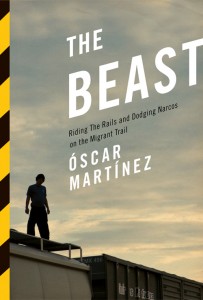 In a single paragraph of this extraordinary book, Óscar Martínez accounts for the vividness of his reporting and hints at the courage needed to deliver it:
"The best place to chat with a migrant is on top of the hurtling train. You're considered an equal there. You're in their territory… Talking is the best way to stay awake, to keep yourself from becoming another one of the legends, another victim mutilated in the darkness, bleeding to death by the side of the tracks."
The train is "La Bestia", the beast of the title, ridden through Mexico every year by more than a quarter of a million men, women and children from Latin America hoping for una vida mejor – a better life – in the United States. It was ridden, too, by Martínez, a journalist from El Salvador, and a couple of  photographers. Many of those they accompanied were fleeing abuse and servitude in towns where the death threat is "part of daily life"; towns in El Salvador, for example, a country where there are 12 murders a day in a population of only six million.
Few of the migrants make it as far as the US border. Each year, as many as 20,000 are kidnapped. Having crossed the River Suchiate, on the southwestern border between Mexico and Guatemala, they have a stop-start trip by minibuses and vans, dodging checkpoints, even before they reach the train. During and after that, putting their trust in guides-cum-people-smugglers, they are at the mercy of both ordinary bandits and organised criminals.
For the drug cartels, the narcotraficantes, illegal migrants are a nuisance because they use the same trails as traffickers and may draw the attention of border patrols. They are also increasingly a source of income – there to be "taxed" or, if they have relations already in the US, held to ransom.
If they are kidnapped, they are unlikely to report it, for they are sin papeles (without documents) and they know, or will soon learn, that the drug cartels have bought both police and immigration officers. "A migrant travelling through Mexico," writes Martínez, "is like a wounded cat slinking through a dog kennel: he wants to get out as quickly and as quietly as he can." And a migrant putting himself in police custody is "about the same as a soldier asking for a sip of water at enemy headquarters".
Martínez, one feels immediately, is as dependable as he is readable. Between 2008 and 2010 he dedicated himself to telling the migrants' story, taking their train, walking their trails, spending time with everyone from polleros, or people smugglers (a pollo is a chicken), to border patrol officers in Arizona. He went to the town of Tenosique, in the Mexican state of Tabasco, where the gangsters Los Zetas "shake the bones of policemen and taxi drivers, lawyers and migrants". He is in a position to challenge official versions of events because he asked questions there and throughout Mexico that could have got him killed.
The Mexican government says there were 2,000 kidnappings on its soil in  2008. Martínez's response: "It would not be an exaggeration to say that, in any stop along the migrant trail, in just a single month, there are as many kidnappings as the official national figure for the year."
It's a shame that such courage on the road has been let down by carelessness in the editing. Martínez's description of migrants "clinging like ticks" to the roof of the train, powerful on page 3, loses some force when it reappears on page 30. That the chronology is a little confusing is probably down to reports having been filed in the present tense and initially for El Faro, the online newspaper for which Martínez works in El Salvador, and reordered here.
Other slips are less forgivable: on the first page, we are told that El Faro was founded in 1998 and then, 20 lines later, in 1999; on page 71, a twin sister turns into a brother within a few lines; gangsters are described on a single page as Los Zetas and Los Zeta, the people of El Salvador as Salvadoreans and Salvadorans.
Martínez, having done the dirty and dangerous work, should have been spared such blemishes. He deserves all the prizes he is likely to collect for an outstanding piece of reporting and writing. He deserves, too, to be listened to in the United States, where he posed an awkward question during his book tour: the US has the intelligence to know when big drug shipments are being moved across its border, so how come it doesn't know that the traffickers are also torturing and killing migrants? Or doesn't it care?
When Martínez's book was first published in Mexico in 2010, it was titled Los migrantes que no importan  – the migrants who don't matter. His hope is that they will matter a little more now. MK