Ariel: A Literary Life of Jan Morris
by Derek Johns
(Faber & Faber, £14.99)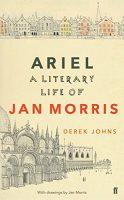 Travel essays are "a fading genre", Jan Morris wrote in an introduction to a collection of her own in 1972. Since then she has published half a dozen more such collections — among a total of more than 50 books — and proved herself thoroughly wrong. She has endured, and so has her writing: on cities such as Venice and Oxford, on the history of the British Empire and, in Conundrum, on the operation that turned her from a man (she was born James Morris) into a woman.
Derek Johns was her agent for 20 years, and is an admirer of Morris as a person as well as a writer. This appreciation of her life and work, of a wanderlust that she herself came to see as "an outer expression of my inner journey", is informed and affectionate, but clear-eyed too. He enjoys her prose for its humour and irony, for "its authoritativeness, its attention to detail, its essential optimism", but he's not blind to the fact that she occasionally overdoes the fanciful and the whimsical as well as the exclamation marks, or that some of her books have stood better than others the test of time.
Morris, on the basis that she doesn't make journeys but tends to fly into a city and stay in one place, has never regarded herself as a travel writer, but she is undoubtedly one of the great conjurors of place. Anyone who has enjoyed that aspect of her work will enjoy Derek Johns's tribute. MK
This review appeared first in The Daily Telegraph