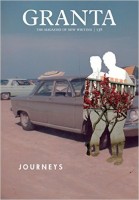 "Is travel writing dead?" That's a question considered by a baker's dozen of writers whose short pieces are scattered among the essays in the current issue of Granta magazine, for which the theme is "Journeys". Judging by the contents of the magazine itself — among them a timely piece by William Atkins from the US-Mexico border — the answer is: far from it. It's evolving, adapting to the 21st century and as rewarding a form, for writer and reader, as ever.
Among those pondering the health of the genre are Lindsey Hillsum (best known as international editor for Channel 4 News) and the Australian writer Alexis Wright, a member of the Waanyi nation of the Gulf of Carpentaria. Both make the point that some of the travel stories we most need to hear today are about journeys of necessity rather than choice; journeys made by asylum-seekers and refugees.
There are contributions, too, from Robert Macfarlane and Geoff Dyer, who disagree over what constitutes life. For Macfarlane, Patrick Leigh Fermor's A Time of Gifts, published in what he calls the annus mirabilis of 1977, is indisputably great. Dyer, however, argues that "certain titles enjoy a reputation as 'travel classics' while falling way below more general standards of literary achievement. Patrick Leigh Fermor's A Time of Gifts depends on these standards being dispensed with entirely."
The issue as a whole makes for a good argument, and a great read. You can find some of it online, but I'd suggest making a journey of your own to the nearest bookshop.