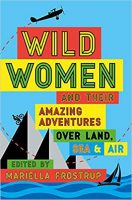 In the travel section of The Daily Telegraph on Saturday, the journalist and presenter Mariella Frostrup introduced Wild Women (Head of Zeus), her new anthology of writing by 50 female adventurers "fuelled by wanderlust and all but forgotten by history". There are familiar names from the past (Gertrude Bell, Vita Sackville-West, Mary Wollstonecraft) and present (Dervla Murphy, Sara Wheeler, Lois Pryce), but also plenty I had never encountered before.
Among the latter are the Canadian Aloha Wonderwell, who as a teenager in the 1920s hopped into a Ford Model T and raced across 75 countries. Having run out of fuel in Brazil, she combined bananas and animal fat to power her car. In later life, after her husband died in mysterious circumstances, she chopped off her hair and joined the French Foreign Legion. Also new to me were Junko Tabei, from Japan, the first woman to summit Everest, and Juanita Harrison, an African-American who set out, "with minimal funds but enormous resolve", to explore the world just 40 years after the abolition of slavery.
When she first began reading travel writers, Frostrup says, she was happy "riding pillion on the exploits of Norman Lewis, Eric Newby, Redmond O'Hanlon… it didn't occur to me to stop and wonder if women like me had also ventured forth and lived to tell similar tales. In some ways, little has changed. Decades later, and much advanced in terms of gender equality, it's still predominantly the same well-to-do men who are invited to embark on far-fetched escapades across the world in that least daring of formats, the TV travelogue."
Frostrup's piece is available online, but you'll have to register to read it.