Until the advent of Covid-19, I'd always reckoned that newspapers would survive longest in print on Saturday and Sunday, when readers still enjoy spreading plump and populous supplements all over a table. I do, anyway. Then came news last week that The Guardian, which is facing "an unsustainable financial outlook" as a result of the pandemic, is laying off up to 180 staff, including 70 in editorial, and reorganising its journalism "so that our editorial processes are truly digital-first".
Saturday sections will suffer most: Review (my favourite part of the package), travel, the magazine, and the TV-and-arts guide will all close. A Guardian spokesman told Press Gazette that there were plans for a "new and exciting" Saturday supplement that will cover features, culture, books and lifestyle journalism. The result, though, can only be less space for books in general, and fewer openings for young and emerging writers — and there's no word yet on what cuts might be coming at The Observer, which is also owned by Guardian Media Group.
Deskbound Traveller will continue doing what it can for writing on travel and place. Here are some of the books coming up in the next month-or-so.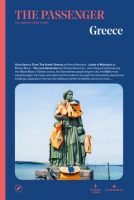 The Passenger: Japan; The Passenger: Greece
(Europa Editions/Iperborea, £18.99 each, August 13)
Is it a book? Is it a magazine? The Passenger is both: a new place-based magazine the size of a large-format paperback (nine inches by six; 192 pages). There will be four issues a year, each devoted to one country, "its current moment and its people", featuring essays, investigative journalism and reportage, plus photography and art. There's a playlist, too, chosen by a local author. It's all produced jointly by Europa Editions (publisher in Britain of Berezina by Sylvain Tesson) and the Italian publisher Iperborea.
The first two volumes are on Japan and Greece. Contributors to The Passenger: Japan include Yoshimoto Banana, with a love letter to her district of Tokyo; Richard Lloyd Parry, Asia editor of The Times and author of Ghosts of the Tsunami, exploring the legacy of the natural disaster of 2011; and Murakami Ryū on "the withering of desire" in contemporary Japanese society.
The Passenger: Greece has the crime writer Petros Makaris (creator of the Athens detective Inspector Haritos) reflecting on the last days of the traditional taverna; Andrew Anthony on the long-living residents of the island of Ikaria; and Rachel Howard on her (ultimately futile) attempts to negotiate Greek bureaucracy.
The third volume, on Brazil, is due to be published in October.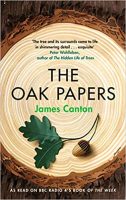 The Oak Papers by James Canton (Canongate, £16.99, August 6)
James Canton "sought solace from the ways of the world by stepping into the embrace of an ancient oak tree". Over two years, he sat with and studied the Honeywood Oak, a tree that has stood for more than eight centuries on an estate in north Essex. In The Oak Papers, which is is due to be read as Book of the Week on Radio 4 from August 3, he examines our long-standing dependency on oak trees, and how that has developed and morphed into myth and legend.
Canton has taught the MA in Wild Writing at the University of Essex since its inception in 2009, exploring the ties between literature, landscape and the environment, and is the author of two previous books: Ancient Wanderings: Journeys into Prehistoric Britain, and Out of Essex: Reimagining A Literary Landscape. His latest has won praise from writers including Philip Marsden, who says it is "a book of deep knowledge, perception and love".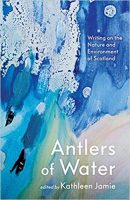 Antlers of Water: Writing on the Nature and Environment of Scotland edited by Kathleen Jamie (Canongate, £20, August 6)
This collection brings together 21 writers and two visual artists who live, or have lived, in Scotland. Their work, Jamie says in her introduction, "addresses the realities of our times, and examines our relationships with our fellow creatures, our beloved and fast-changing landscapes, our energy futures, our ancient past".
Among the contributors are Amy Liptrot, Malachy Tallack, Chitra Ramaswamy, Jim Crumley, Amanda Thomson and Karine Polwart. Jamie invites their readers not to be passive recipients but to be active participants in the "vital work" of noticing what the natural world has to offer. "In a time of ecological crisis," she says, "I would argue that simply insisting on our right to pay heed to natural landscapes and other non-human lifeforms amounts to an act of resistance to the forces of destruction."
The title, incidentally, comes from a poem by Norman MacCaig, "Looking Down on Glen Canisp", in which he writes of how "two stags/ canter across the ford, splashing up before them/ antlers of water".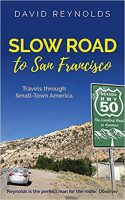 Slow Road to San Francisco: Across the USA from Ocean to Ocean by David Reynolds (Muswell Press, £14.99, August 20)
For his last book, David Reynolds — who was one of the founders of Bloomsbury Publishing — drove the length of Highway 83, "the Main Street of the Great Plains", from Canada to the Gulf of Mexico. In Slow Road to San Francisco, he travels through small-town America, from Ocean City, Maryland, all the way to the west coast, along Route 50, one of the few remaining two-lane highways that cross the country. "As he moseys from east to west," his publisher says, he "meets Trump's countrymen and women… They talk about everything from slavery and Indian reservations to Butch Cassidy and Marilyn Monroe. Everyone has something to say about Trump, whether they love him or hate him."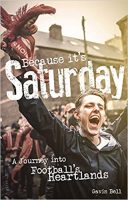 Because It's Saturday by Gavin Bell (Pitch Publishing, £12.99, August 10)
For his debut, In Search of Tusitala, which won the Thomas Cook Travel Book Award in 1995, Gavin Bell followed the spirit of Robert Louis Stevenson to the South Seas. In Somewhere Over the Rainbow, he explored what Archbishop Desmond Tutu called the "Rainbow Nation" of South Africa. For his latest book, Because it's Saturday, he travels to yet more exotic places, among them Accrington, Grimsby and Blackpool. His subject is football in the lower leagues, where passionate fans "sustain teams unlikely to win anything other than their undying devotion". That takes him into the haunts of LS Lowry (Berwick), Beryl Cook (Plymouth), Rupert Brooke (Cambridge) and Laurie Lee (Forest Green Rovers).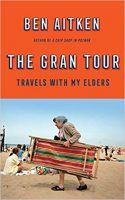 The Gran Tour by Ben Aitken (Icon Books, £14.99, September 3)
Ben Aitken's third book wasn't conceived as a memorial, but that's how it has turned out, even if the author's tone couldn't be further from sombre. After Aitken travelled with the coach-tour operator Shearings (founded: 1919) on a series of trips in the British Isles and Italy, a millennial mixing with the pensioners, Shearings went into administration, a casualty of the Covid crisis. The brand — but none of the staff, coaches or hotels — has since been taken over by Leger Holidays (though that's not immediately apparent on the website).
Early on, Aitken says he booked the first outing because he had come to believe that his elders had more to offer than his peers — and because it cost just over a hundred quid: "I didn't seek wisdom. I didn't seek revelation. I didn't seek vengeance against any baby-boomers that might have stolen my future. Simply put, I did it because I thought it might be nice."
Recently published titles that I haven't mentioned here before include the following: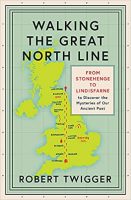 Walking the Great North Line by Robert Twigger (Weidenfeld & Nicolson)
Robert Twigger says he happened upon what he calls "the Great North Line" when he extended a line on a map from Old Sarum to Stonehenge and found that it ran through a string of historic sites (42 by his count), finishing at the holy island of Lindisfarne on the Northumbrian coast.
He set out to walk it, "fondly hoping to develop ideas about England's 'primitive' past and to point out that ancient man was just as intelligent as we are". Reviews have appeared in publications including The Scotsman and The Times.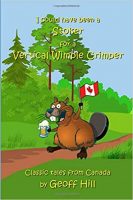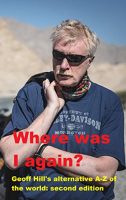 Where was I again? by Geoff Hill (£9.99 via Amazon)
I Could Have Been a Stoker for a Vertical Wimple Crimper by Geoff Hill (Thunderchild Publishing, £8.90 via Amazon)
Geoff Hill is a travel writer dedicated to the cause of cheering us all up, so he has published two books in the midst of the pandemic. The first is a collection of pieces drawing on his travels since the 1990s, assembled as an A-to-Z that takes him from Azerbaijan to Zagreb (by way of "Cruising and Copenhagen", "Dormouse hunting and Donegal", and "Vietnam, Vermont and Venice"). The second tells of a three-month stint in 1992 in Canada, a country where, he says, "it is virtually impossible to be bored".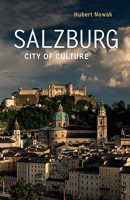 Salzburg: City of Culture by Hubert Nowak (Haus Publishing, £9.99)
Marvel of Baroque architecture, birthplace of Mozart, home to a world-renowned festival: all of these aspects of the city, as you'd expect, feature in this portrait by the Austrian journalist and author Hubert Nowak (translated by Peter Lewis). But he is also intent on showing us a lesser-known Salzburg, a place that, among other things, has been a setting for crime novels and a battleground for town planners.