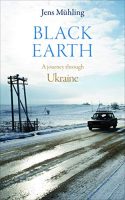 The cover story of last Saturday's Guardian Weekend was an interview with Volodymyr Zelenskiy. He used to be a comedian, and played a man who becomes president of Ukraine; now he is president of Ukraine.
As Shaun Walker and Andrew Roth put it in their Guardian article, Zelenskiy is now "running a country of 42 million people that in the past few years has seen a revolution, a land-grab [of Crimea] by Vladimir Putin and an ongoing war in its eastern regions". It's a country that figured, too, in the impeachment proceedings against Donald Trump.
I've recently become more familiar with the place behind the headlines, having read Black Earth, a pacey and populous book by the German journalist Jens Mühling. It was published in English (under Haus Publishing's imprint The Armchair Traveller) last August, but hasn't had the attention it deserves. Like his last book, it was prompted by a feeling that he didn't really know a place where he had long been working as a reporter, and by an urge to make good the deficiency.
A Journey into Russia, which was short-listed for the Stanford Dolman prize in 2015, was an attempt to get at "the soul of Russia" — a topic on which Mühling was regularly asked to speak at editorial meetings but which he felt ill-equipped to address. It was a book that barely mentioned the name "Putin" or the word "oligarch", and which conveyed powerfully the grip that religion still has on the country.
Similarly, Black Earth (translated as the last book was by Eugene H Hayworth) was sparked by Mühling's realisation that in his journalistic work he had really only skimmed the surface of Ukraine. So he set out to get the measure of it, travelling through it from the Polish border to the Russian one. Along the way, he talked to nationalists and old communists, Crimean Tatars and Cossacks, smugglers, archaeologists and soldiers, gathering stories "of life and of grief and of love". You can read an extract here on Deskbound Traveller.
Thanks to Haus Publishing, I have four copies of Black Earth to give away. To be in with a chance of winning one, just retweet my mention of the book from either @kerraway or @deskboundtravel, or like and share my post about the book on facebook.com/deskboundtraveller.
Terms and conditions
Entrants must retweet a mention of the prize on Twitter from @deskboundtravel or @kerraway, or like and share the post about the prize on the Deskbound Traveller Facebook page, by midnight on March 17. Each winner, who must be resident in the United Kingdom or Ireland, will receive one copy of the book. Winners will be selected at random and notified by March 23. Unsuccessful entrants will not be contacted. For more about Haus Publishing's travel books, see the company's website.