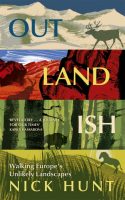 Nick Hunt has been drawn by the footsteps of Patrick Leigh Fermor (Walking the Woods and the Water) and blown by four of Europe's winds (Where the Wild Winds Are) across the continent. In his latest book, Outlandish, out now in paperback, he takes us through wildernesses that seem to belong elsewhere: Arctic tundra in Scotland; primeval forest in Poland and Belarus; a desert in Spain; and the grassland steppes of Hungary. "Perhaps," he says, "the result is not a nature book, or even a travel book, so much as a book of fantasy: four small pilgrimages into imagination."
You can now read an extract from Outlandish here on Deskbound Traveller. Thanks to the publisher, John Murray, I have five copies of the paperback to give away; to be in with a chance of winning one, just retweet my mention of the book on Twitter from either @kerraway or @deskboundtravel.
Nick Hunt will be talking about Outlandish on Thursday at Waterstone's in Bristol.
Terms and conditions
Entrants must retweet a mention of the prize on Twitter from @kerraway or @deskboundtravel by midnight on August 2. Each winner, who must be resident in the United Kingdom or Ireland, will receive one copy of the book. Winners will be selected at random and notified by August 5. Unsuccessful entrants will not be contacted.