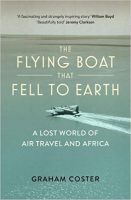 Graham Coster's The Flying Boat That Fell to Earth is a love-letter to a mode of transport that is simultaneously improbable and fabulous: "an aeroplane walking on water; a boat defying gravity — as magical as a flying pig". The author, who is lucky enough to have travelled on a few flying boats (there are no longer any in service), will be speaking at the new Stanfords shop in Covent Garden, London, next Tuesday, February 19. Tickets, available in the shop or online, cost £4, redeemable against the price of his book.
I have two copies of the book to give away. To be in with a chance of winning one, just retweet my pinned tweet from either @kerraway or @deskboundtravel, or like and share my post about the book on facebook.com/deskboundtraveller.
Terms and conditions
Entrants must retweet the mention of the prize on Twitter from @deskboundtravel or @kerraway, or like and share the post about the prize on the Deskbound Traveller Facebook page, by midnight on Thursday, February 21, 2019. Each winner, who must be resident in the United Kingdom, will receive one copy of the book. Winners will be selected at random and notified by Monday, February 25. Unsuccessful entrants will not be contacted. For more about the book, see the website of Safe Haven Books.