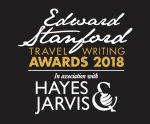 "Writing that takes you away" is what Deskbound Traveller aims to provide, and there's a richness of it among the seven books short-listed for the Stanford Dolman Travel Book of the Year. Among them are two titles on the topical subject of borders and one on small islands off Britain, a portrait of Pakistan and one of Calcutta, a book driven by the wind and one brimming with stories of the sea. The judges meet next week to decide on the winner.
The books are:
Islander: A Journey Around Our Archipelago by Patrick Barkham (Granta, £20)
The Rule of the Land: Walking Ireland's Border by Garrett Carr (Faber, £13.99)
The Epic City: The World on the Streets of Calcutta by Kushanava Choudhury (Bloomsbury, £16.99)
RisingTideFallingStar by Philip Hoare (Fourth Estate, £16.99)
Where the Wild Winds Are: Walking Europe's Winds from the Pennines to Provence by Nick Hunt (Nicholas Brealey, £16.99)
Border: A Journey to the Edge of Europe by Kapka Kassabova (Granta, £14.99)
Travels in a Dervish Cloak by Isambard Wilkinson (Eland, £19.95).
Now, courtesy of the bookseller Stanfords, I am offering you the chance to win all seven.
The £5,000 Stanford Dolman prize, formerly the Dolman prize — after the Rev William Dolman, a member of the Authors' Club, who had been sponsoring it through the club since 2006 — was rebranded in 2015 and is now the centre-piece of a scheme run in association with the club by Stanfords and named after its founder: the Edward Stanford Travel Writing Awards. That scheme — with sponsorship from the tour operator Hayes & Jarvis — includes an award for an outstanding contribution to travel writing, one for young travel writers and one for bloggers, one for fiction with a sense of place and others for books in various byways of travel (food, adventure, illustrated books and children's travel books). The winners of all the awards will be announced on February 1 at the Stanford Travel Writers' Festival, part of the Destinations show in London.
To be in with a chance of winning the seven books on the Stanford Dolman short list, just retweet my tweet about the prize ("Win all 7 books…") on Twitter from both @deskboundtravel and @kerraway.
Terms and conditions
Entrants must retweet the mention of the Stanford Dolman prize on Twitter from both @deskboundtravel and @kerraway by midnight on Friday, January 26, 1918. The winner, who must be resident in the United Kingdom, will receive one copy of each of the seven books short-listed for the prize. He or she will be selected at random and notified by Thursday, February 1. Unsuccessful entrants will not be contacted. For more information about the Stanford Dolman Travel Book of the Year, please see the Edward Stanford Travel Writing Awards site.