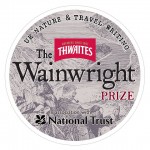 Hugh Thomson, with The Green Road into the Trees, was the winner last week of the inaugural Thwaites Wainwright Prize for a work of nature writing or travel writing focused on the British countryside. His was one of six books on a great short list, and now, thanks to the organisers of the prize, readers of Deskbound Traveller have a chance to win the whole set.
The other titles were: Walking Home by Simon Armitage; Under Another Sky by Charlotte Higgins; The Old Ways by Robert Macfarlane; Badgerlands by Patrick Barkham; and Field Notes from a Hidden City by Esther Woolfson. (The last two, incidentally, are also on the short list for the Ondaatje Prize, the winner of which will be announced on Monday.)
To be in with a chance of winning the six, all you have to do is email your full name by midnight on May 31, 2014 to fiona.livesey@midaspr.co.uk. Please put "Thwaites Wainwright Prize/Deskbound Traveller" in the subject field. Then "like" and share Deskbound Traveller on Facebook and follow @deskboundtravel on Twitter. The winner will be informed on June 3 and (unless he or she has elected for football-pools anonymity) named as soon as possible after that on Deskbound Traveller.
Terms and conditions
All entries must be sent to fiona.livesey@midaspr.co.uk by midnight on May 31, 2014. Any sent later will not be eligible. Only one copy of each of the six short-listed titles is available to the winner, who must be resident in the United Kingdom. A winning entry will be selected at random and the winner contacted on June 3, 2014. Unsuccessful entrants will not be contacted. This competition is facilitated by a third-party company; Deskbound Traveller cannot accept liability for any contact beyond this initial announcement. For more information on the prize, please visit wainwrightprize.com.